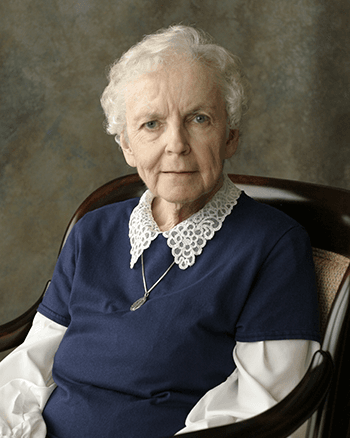 Sister Stephanie Campbell, OSB
January 5, 1923 - December 9, 2010
God of all blessing,
You have welcomed our sister, Stephanie, to yourself.
She now knows the delight of freedom
and the joy of eternal life.
Stephanie embodied refinement,
and lived her values with
quiet elegance,
firm conviction,
and steadfast faithfulness.
We hold dear the memory of this wise woman
whose intense longing for justice and truth
was balanced by the twinkle in her eye,
an untiring devotion to family and friends,
and a love for the Benedictine way of life.
May we who mourn her passing,
yet celebrate her peace,
be inspired by her stamina and fierce desire
to remain engaged in life with dignity and grace,
so that in all things God may be glorified. Amen.
Sister Stephanie Campbell, OSB, 87, died December 9, 2010, at Mount Saint Benedict Monastery in Erie, Pennsylvania.
Born January 5, 1923, in New Brunswick, New Jersey, and baptized Margaret Theresa, Sister Stephanie was the daughter of John and Loretta Campbell. She entered the Benedictine Sisters of Elizabeth, New Jersey in 1942, pronounced her perpetual monastic vows in 1946 and celebrated her silver jubilee in 1968. From 1971-81, she was a member of Emmanuel Priory in Severn, Maryland. In 1983 she completed a transfer to the Benedictine Sisters of Erie. Her golden jubilee was celebrated in 1993 and in 2003 she marked the 60th anniversary of her profession.
Sister Stephanie held a B.A. in English and an M.A. in Speech and Drama from the Catholic University of America, Washington, D.C. She began her ministry in education in 1943 as an elementary teacher and continued as a high school teacher and administrator. Sister Stephanie served as an adjunct professor of English at Mercyhurst College (1981-82) and Gannon University (1982-86), both in Erie. Her teaching career was followed by community ministry: Coordinator of Mount Saint Benedict Monastery (1987-89), and supervisor in the Single Point of Contact (SPOC) Program at Saint Benedict Education Center (1989-90). From 1991-94 Sister Stephanie worked in various levels of administration at John XXIII Home, Hermitage, PA. During this time she became a licensed nursing home administrator. In 1995 Sister Stephanie began the writing of Vision of Change, Voices of Challenge: The History of Renewal in the Benedictine Sisters of Erie, 1958-1990, which was published in 2001.
In addition to her parents, Sister Stephanie was preceded in death by her eleven sisters and brothers. She is survived by her Benedictine community, many nieces, nephews and good friends.
Services will take place at Mount St. Benedict Monastery: Visitation, Monday, 3:00-7:00 p.m. and Tuesday, 2:00-5:00 p.m., a Service of Memories on Monday at 7:00 p.m., and a Mass of Christian Burial on Tuesday at 5:30 p.m. Interment will be Wednesday at 8:15 a.m. in Trinity Cemetery.
Memorials may be made to the Benedictine Sisters of Erie, 6101 East Lake Road, Erie, PA 16511. Click here to offer an online memorial.