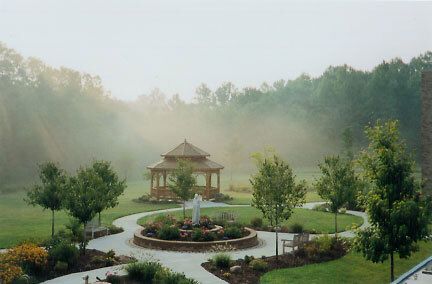 One of the greatest gifts monastics can offer is their monastery as a place of prayer and peace, community and care, welcome and hospitality. In doing so monastics take to heart what Benedict advocates: the monastery is a dwelling where guests are to be cherished and respected, where hearts overflow "with the inexpressible delight of love." —Prologue, Rule of Benedict.
The hospitality of the Benedictine Sisters of Erie invites the guest into the rhythm of life in the monastery. The daily horarium provides an experience of community in which all can come to know God through the monastic way of praying, sharing meals, conversing, and working together. The beautiful grounds, woods, and Lake Erie offer a place to encounter God in creation. The gentle quiet allows the possibility to hear God with the "ear of the heart."
By following Benedict's Rule to welcome the guest as Christ we open our hearts and receive you with reverence and respect. We offer you space to seek God. May it be an opportunity that leaves you with a clearer understanding of the Benedictine way of life as well as the Benedictine charism of hospitality. May it be an opportunity for our community to grow because of your presence among us. You are guest, you are Christ, you are gift. We welcome you. —The Benedictine Sisters of Erie
Distance to Mount St. Benedict from:
A) Erie Int'l Airport 13 miles
B) Cleveland Hopkins Int'l Airport 122 miles
C) Pittsburgh Int'l Airport 147 miles
D) Buffalo Niagara Int'l Airport 90 miles
The Benedictine Sisters offer accommodations in
guest rooms at the monastery
one of three hermitages (cottages) within walking distance of the monastery
a small apartment (Casita) across East Lake Road on the lakefront side of our property.
A minimum two-night stay is required to reserve a hermitage or Casita.
Guest rooms are in the monastery's guest wing and provide single or double beds with a shared bathroom between every two rooms. Two rooms with private baths are available upon request. Linens are provided and wi-fi is available. A guest room is the best choice for those planning to pray and dine with the sisters, as well as for those who need elevator access. The guest wing has a full kitchen, dining room, and living room with television.
Three hermitages (one or two bedrooms) are in the adjoining woods, a five-minute walk from the monastery. They provide a more intensive opportunity for silence, solitude, prayer, and contemplation. Guests are welcome to join the community for prayer three times daily.
The hermitages and Casita are self-contained, heated, and have fully equipped kitchens. Guests have the option of bringing their own food and fixing their meals or joining the sisters for meals. Linens are provided. Pets are not permitted. 
Please note that wi-fi and television are not accessible in the hermitages; Casita does have a television. Guests can come into the monastery for both. Smoking and burning candles are not permitted in any of the accommodations. 
The paths into the woods to the hermitages are narrow and not accessible by car. It is advisable to be prepared for walking in rain, through muddy ground, or snow. We have carts and sleds available to assist with transporting luggage. Casita is accessible by car.
Please plan your arrival between 10:00 a.m. and 8:00 p.m. 
Departure time is by 1:00 p.m. Monday through Friday and by 5:00 p.m. on Saturday or Sunday.