Joan Chittister Literary Archive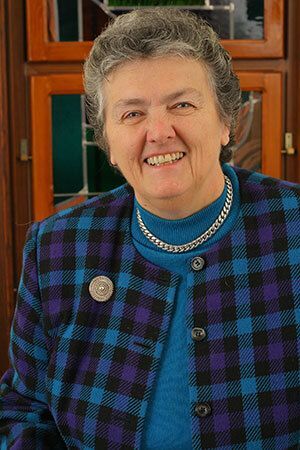 Erie Benedictine Joan Chittister is an outspoken advocate of justice, peace and equality — especially for women world-wide — and has been one of America's visionary spiritual voices for more than 30 years.
She has dedicated her life to voicing questions that test popularly accepted truths of the day. Her questions to both church and society focus on the empowerment of women, the development of contemporary spirituality, a redefinition and renewal of Benedictine life for seekers today, and justice for the oppressed and marginalized, particularly those in prison.
Sister Joan's archive is a collaborative effort of Pennsylvania State University, Mercyhurst University and Mount St. Benedict Monastery. "This three-way partnership that we share with Mercyhurst and Penn State is a unique way to present and share Joan's achievements with a broad audience," said Sister Anne Wambach, prioress of the Benedictine Sisters of Erie. "Nothing could please us more than to bring this dream to fruition and to celebrate the giftedness of a woman we call sister ─ a woman who embodies a vision of peace and justice that inspires and challenges all of us to do the same."
Learn more about Joan Chittister on her website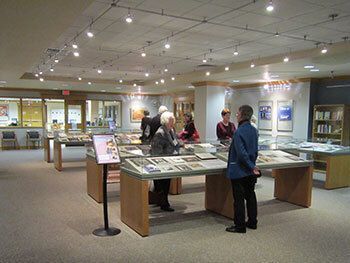 At Penn State University, State College, PA
In 2013, Penn State University, where Sister Joan earned her PhD, became the repository of her Literary Archives. This collection will work to preserve and make accessible the books, articles, reviews, presentations, speeches, homilies, interviews, newspaper columns, correspondence and audio/visual material that represent the Joan D. Chittister Literary Archives. Within two years the first material: correspondence and audio and visual works, was listed online and is available for researchers at the library at State College where the PSU archives department is located. A formal dedication of the Joan Chittister archives was held at Penn State, October 2015.
Researchers can visit the archives here
Story: Joan D. Chittister Archive collaboration includes Penn State
Story: Archive opens in honor of Sister Joan D. Chittister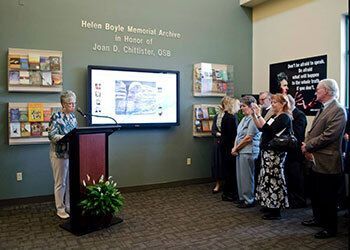 At Mercyhurst University, Erie, PA
In April 2014 Mercyhurst University, Sister Joan's alma mater for her Bachelor's Degree, opened the Joan D. Chittister Archives Room in Honor of Helen Boyle, Joan's longtime friend, supporter and a Mercyhurst alum herself. The room is in the university's library and showcases a large selection of photos from Sister Joan's life as well as an interactive computer system with numerous links to video presentations and online material. It includes a 70-inch interactive screen on which visitors can read Sister Joan's blogs, access some of her 50 books and watch videos of speeches she has delivered around the world. An annual Joan Chittister lecture series is also hosted by Mercyhurst University.
Story: New Mercyhurst archive, lecture series honors Sister Joan Chittister, OSB
View photo gallery
Story: Sister Joan Chittister Archive
Story: Mercyhurst University opens Joan Chittister archive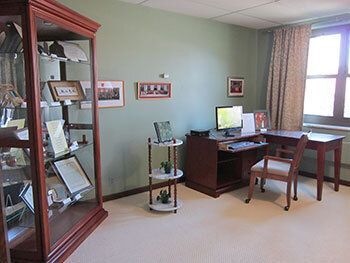 At Mount St. Benedict Monastery, Erie, PA
The Benedictine Sisters of Erie have also dedicated a permanent archive room at Mount St. Benedict Monastery, open to the public, that displays and provides access to material from Sister Joan's works. The displays include all of her books and numerous awards and memorabilia. Additionally, there is access to a computer that contains electronic copies of all of Sister Joan's books, articles, speeches, interviews and columns which are available to visitors.
Information for monastery guests, including an accommodation request for overnight visits, is available here.
Story: Announcing the Joan D. Chittister Archive
Story: Dedication of the Helen Boyle Memorial Archive in Honor of Joan Chittister