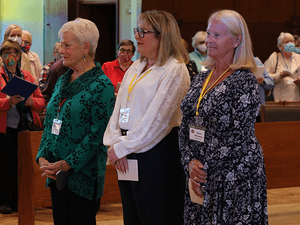 The Process: Oblate formation
Erie Benedictine Oblates come from all over the country and indeed the world. Once an inquiry is made, an initial conversation is arranged with one of the oblate co-directors. If the Inquirer wishes to proceed, an application is sent for completion. There is a two-year formation process, beginning in January, for those wishing to become oblates: 
The Candidate Year 1 - Candidates are those who wish to explore becoming an oblate with the Benedictine Sisters of Erie. During these months, candidates will familiarize themselves with the community as they come to recognize the importance of community in the Benedictine tradition. Candidates will establish or deepen a rhythm of daily prayer, learn the history and current mission of the community, and explore Benedictine core values. Monthly meetings via zoom are held and visiting the monastery frequently is encouraged. After a period of mutual discernment with the oblate co-directors, a candidate may choose to make a one-year commitment as an oblate initiate. Or, s/he may discern the need for additional time as a candidate.
 
The Initiate Year 2 - During year two, initiates engage in a deeper study of the Rule of Benedict while continuing to deepen their daily prayer, reading of the Rule, and lectio practices. Initiates explore the important question as to how they will live their commitment as a Benedictine in their daily lives and with others in community. Initiates also will have an oblate companion for informal conversation during this time of formation. Monthly meetings continue where Initiates share insights from their prayer, lectio and study of the Rule. Visits to the monastery are encouraged so that initiates may experience communal prayer and the daily rhythms of the monastery. After a period of mutual discernment with the oblate co-directors, the initiate may choose to make his/her initial oblation.
If you wish to learn more about becoming an oblate, contact:
Joanne Cahill OSB Obl and Annette Marshall, OSB
Oblate Co-Directors
T: 814-899-0614 ext 2402
F: 814-898-4004
E-mail: [email protected]