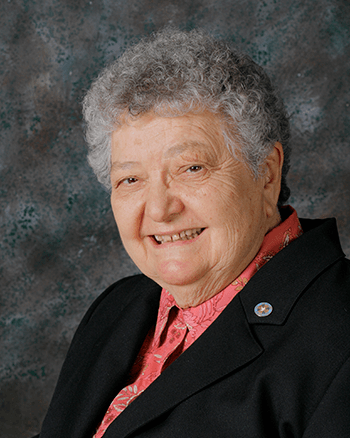 Sister Miriam Vos, OSB
December 17, 1930 - January 18, 2011
Gracious and Loving God,
You have called home our sister, Miriam,
with the same impulsive abandon with which she embraced life.
Miriam lived her days faithful to daily routine,
enlivened by simple attention and interested in all things.
She was candid in speaking her mind —
oblivious in some ways, perceptive in others,
and ultimately, humbly obedient as her monastic life invited.
Her enthusiasm was sustained by ministry engagement,
particularly the prison ministry to which she was devoted.
It filled her with deep satisfaction
and gave her a fresh sense of purpose.
Life changed suddenly for Miriam.
Her unexpected death reminds us to be grateful for each day.
God of Radiance and Splendor,
may we learn to delight more fully in your love,
flourish in the grace of the daily,
and take pleasure in the simple things.
Allow our hearts to overflow
with the blessing of faith, hope and charity
as we continue to follow the Benedictine way of life. Amen.
Sister Miriam Vos, OSB, 80, died on January 18, 2011, at Mount Saint Benedict Monastery in Erie, PA. Born in Paris, France and baptized Flore Aline, Sister Miriam was the daughter of the late Marius and Aline (Porge) Vos. She entered the Benedictine Sisters of Holy Family Priory, Benet Lake, WI on February 10, 1963 and pronounced her perpetual vows on February 6, 1970. In 1986, the Benedictine Sisters of Benet Lake, WI began a merger process with the Benedictine Sisters of Erie. Sister Miriam celebrated her Silver Jubilee in 1989. The merger process was completed on December 29, 1991.
Sister Miriam held a B.A. in Foreign Literature and Languages from the Catholic University of Paris, France, a Superior Certificate in the Spanish Language from the University of Granada, Spain, a Superior Certificate in the Italian Language from the University of Florence, Italy, a B.A. in Philosophy from the College of Saint Benedict, Saint Joseph, MN and an M.A. in Sacred Scriptures from Saint John's University, Collegeville, MN. During her years at Benet Lake she worked primarily as a Director of Religious Education for children and adults and received the Bishop Arthur O'Neil Award for outstanding work in catechetics on two occasions. After moving to Erie, Sister Miriam was an adjunct professor of theology as well as the Assistant Director of the Pastoral Ministries Program at Gannon University (1988-1992). In the years following, she did data entry for the Electronic Scriptorium, Ltd, and worked in internal ministries at Mount Saint Benedict Monastery as a clerk in the Chapter 57 Gift Shop and an assistant librarian. At the time of her death, Sister Miriam was engaged in the ministry of hospitality as a receptionist. In addition to this, she was actively involved in prison ministry since 2001 and was a volunteer visitor of the Pennsylvania Prison Society. She visited two state prisons weekly (Albion and Cambridge Springs), as well as the Erie County Prison. Sister Miriam ministered to the faith life of the inmates and maintained contact between visits through phone calls and letters. In 2004 she received the Volunteer of the Year Award for outstanding commitment and service to the men of the State Correctional Institution of Albion. Throughout the years Sister Miriam was actively involved in Benedictine life and served as an elected member of three General Chapters of the Federation of St. Scholastica. She was also a member of the Ecumenical Theological Center at Thiel College (1989-92), a member and councilor for Inter-Church Ministries (1992-2005), and a member of the Erie County Criminal Justice Advisory Board (2002-2008).
Sister Miriam is survived by her Benedictine community, brother and sister-in-law, Hubert and Susan Vos, and niece, Wendy Vos from Santa Barbara, CA, and nephew, James Vos and his wife Stephanie and their children Sam and Sophie from New Canaan, CT. Services will take place at Mount Saint Benedict Monastery: Visitation, Friday, 2:00-7:00 p.m. and Saturday, 9:00-9:30 a.m., a Service of Memories on Friday at 7:00 p.m., and a Mass of Christian Burial on Saturday at 10:00 a.m. Interment will follow immediately in Trinity Cemetery.
Memorials may be made to the Benedictine Sisters of Erie, 6101 East Lake Road, Erie, PA 16511. Click here to offer an online memorial.