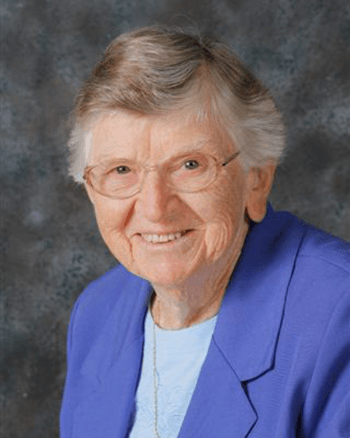 Sister Mary Margaret Kraus, OSB
January 17, 1922 - May 15, 2011
God of eternal delight,
you have welcomed our sister, Mary Margaret,
into fullness of life with you.
With deep peace her spirit glided into your embrace
in the same manner in which she lived life:<
gracefully, with gentle movement and steadfast heart.
Throughout her life she danced to the sounds of your world
and moved to the rhythm of your plan:
ever sensitive, always genuine,
filled with sincerity, overflowing with interest,
grounded in wonder, excited by imagination,
quietly passionate and utterly dedicated.
May we, the community that she loved,
bring to fruition the many seeds she planted:
tender acceptance of one another and all people,
unfailing commitment to life-giving change
in the pursuit of justice,
genuine compassion and care
for every part of God's creation.
Help us to grow and flourish so that we, too,
may be simple blessings of beauty
in any and all situations,
now and evermore. Amen.
Sister Mary Margaret Kraus, OSB, former prioress, spiritual leader, gentle friend and compassionate presence to all, died peacefully on Sunday, May 15, 2011, at Mount Saint Benedict Monastery in Erie, PA.
Sister Mary Margaret, the 7th of ten children, was born to John and Helen Kraus on January 17, 1922. She grew up in St. Mary's Parish and became a member of the Benedictine Sisters of Erie, entering the community in 1939 and pronouncing her perpetual vows on August 18, 1944. Her silver, golden and diamond jubilees were celebrated respectively in 1966, 1991, and 2001.
Holding a B.S. in Education from Villa Maria College, Sister Mary Margaret ministered in the field of education for 22 years, both as elementary teacher and principal. In 1964 she was elected prioress and served in that role for 14 years. Among her many accomplishments was the planning and building of the new Motherhouse on East Lake Road. While leading the community through the challenging period of renewal after Vatican II Sister Mary Margaret was active in the Leadership Conference of Women Religious, the National Assembly of Women Religious, and the Sisters' Council of the Diocese of Erie. Following her years as prioress she served a term on the Monastic Council.
In 1979 Sister Mary Margaret earned an M.A. in Creation Spirituality from Mundelein College before becoming the administrator of (Camp) Glinodo Center. After completing 13 years in this position, Sister Mary Margaret continued her service to God's people in a variety of ways. For more than 10 years she made regular visits to the Mission of Friendship, the mission program of the Roman Catholic Diocese of Erie in Merida, Yucatan, Mexico. She embraced volunteerism and for many years participated in the "Hooked On Books!" program at the Inner City Neighborhood Art House, volunteered at the House of Healing by assisting women who had been in the criminal-justice system as they attempted to make major changes in their life style, and worked for Hospice of Metropolitan Erie as a certified hospice volunteer.
From 1982 until shortly before her death, Sister Mary Margaret was a member of the Pennsylvania Prison Society, serving the people of Erie through prison ministry at the Erie County prison. She conducted a Communion service at the facility each Sunday, visited and corresponded with inmates regularly, and was a strong advocate for their humane treatment.
Sister Mary Margaret was a board member for Ecclesia Center and L'Arche Federation. In 1982, she received a Humanitarian Award from the Migration and Refugee Services department of the United States Conference of Catholic Bishops. The Pennsylvania House of Representatives recognized her for outstanding dedication and performance in assisting in the ministry to women at the Erie County Jail in 1995, and in 2005 Sister Mary Margaret was one of Erie's "Women Making History," an annual event sponsored by the Mercy Center for Women.
Sister Mary Margaret is survived by her Benedictine community, one brother, John, and his wife, Dorothy, two sisters, Dorothy Green and Claire Weber and her husband, Paul, sister-in-law Virginia Kraus, and many cousins, nieces and nephews. Services will take place at Mount Saint Benedict Monastery: Visitation, Wednesday, 2:00-7:00 p.m. and Thursday, 2:00-5:00 p.m., a Service of Memories on Wednesday at 7:00 p.m., and a Mass of Christian Burial on Thursday at 5:30 p.m. Interment will be Friday at 8:15 a.m. in Trinity Cemetery.
Memorials may be made to the Benedictine Sisters of Erie, 6101 East Lake Road, Erie, PA 16511. Click here to offer an online memorial.