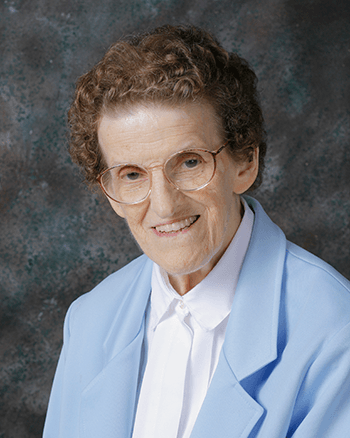 Sister Margaret Mary Nielsen, OSB
February 19, 1921 - October 23, 2011
Gracious God,
our sister, Margaret Mary,
now lives with you in the fullness of eternal joy.
Margaret Mary was diligent
in pursuing excellence in all things.
She cherished relationships
and was earnest in sustaining connections
with family, friends and community.
This faithfulness found its roots
in her dedication to you, O God,
and in her steadfast embrace of the monastic way of life.
Desiring to stay immersed in the daily,
Margaret Mary persisted in being present
to everyone and everything
with painstaking care and never-failing solicitude.
Her presence among us was marked by a conscious effort
to remain integral in all ways possible.
This presence is now gift to you,
the God in whom she has reached completion.
God of fulfillment,
teach us to savor the sweetness of life.
May we, too, find our joy in you,
the source of all goodness and love,
now and forever. Amen.
Sister Margaret Mary Nielsen, OSB, 90, died on October 23, 2011, at Mount Saint Benedict Monastery in Erie, PA.
Born in Chicago, IL and baptized Helen Frances, Sister Margaret Mary was one of six children born to the late Joseph and Mary (Ruminski) Drzewiecki. She entered the Benedictine Sisters of Holy Family Priory, Benet Lake, WI on September 15, 1951. She lived as an Oblate until beginning her canonical novitiate in 1956 and pronounced her perpetual vows in 1960. In 1968 she was elected the first prioress of Holy Family Priory and held this office for 12 years. Sister Margaret Mary celebrated her Silver Jubilee in 1982. In 1986, the Benedictine Sisters of Benet Lake began a merger process with the Benedictine Sisters of Erie which was completed in 1991. Sister Margaret Mary celebrated her Golden Jubilee in 2007.
Sister Margaret Mary held a B.A. in Sociology with an emphasis in Social Work and a Social Service certification in Health Care. She was a member of the Omega Chapter of the National Scholastic Honor Society, Delta Epsilon Sigma, and did extensive studies in Theology. During her years of ministry at Benet Lake she did clerical work at Our Faith Press in St. Benedict's Abbey, worked in Religious Education both as teacher and director, and was a parish volunteer coordinator. In addition to serving three terms as prioress, Sister Margaret Mary served the community as Formation Director, elected council member and general secretary. She also worked in Public Relations for a number of years. After transferring to the Erie Benedictines, Sister Margaret Mary worked on the staff of Chapter 57, the monastery's fine art gift shop. Most recently, as an infirmary resident Sister Margaret Mary was engaged in the ministry of prayer and presence at Mount Saint Benedict Monastery.
Sister Margaret Mary is survived by her Benedictine community, her sisters, Emilia Pavich and Dorothy Bojanowski, as well as cousins, nieces and nephews.
Memorials may be made to the Benedictine Sisters of Erie, 6101 East Lake Road, Erie, PA 16511. Click here to offer an online memorial.