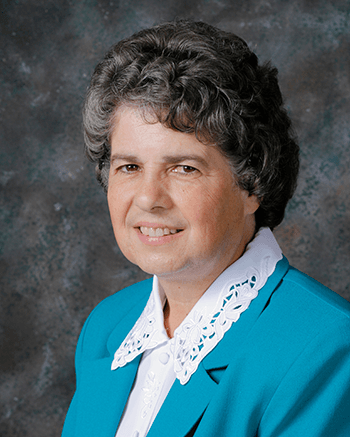 Sister Kathleen Ruszkowski, OSB
April 15, 1949 - April 19, 2012
Gracious God, our sister, Kathleen,
having endured suffering and embraced death,
is now enlivened by Resurrection.
Kathy, a woman of boundless gifts,
filled space with beauty through all manner of art.
Courage and conviction enlightened her vision;
creativity and care animated her efforts.
Her passion for excellence was beyond measure.
Because of it she lived with intention;
because of it she died with purpose.
In the end, her manner of dying
became her greatest work of art.
It opened hands to acts of goodness
and engaged hearts in ways of love.
It empowered expansive kindness
and allowed selfless giving.
It inspired family and friends
and upheld the meaning of community.
May we honor the memory of this woman
whose strength of spirit and attention to detail
guided her to fullness of joy in you, her God,
the one in whom all things are glorified,
now and evermore. Amen.
Sister Kathleen Ruszkowski, OSB, 63, died on Thursday, April 19, 2012, at Mount Saint Benedict Monastery in Erie, Pennsylvania.
Born April 15, 1949, in Jersey City, New Jersey, Sister Kathleen was the daughter of Chester and Rosalyn (Saccente) Ruszkowski. She entered the Benedictine Sisters of Erie in 1968, pronounced her perpetual monastic vows in 1973 and celebrated her silver jubilee in 1995.
Sister Kathleen held a B.A. in English and a B.A. in Fine Arts from Mercyhurst College, now Mercyhurst University, and an M.A. in Theology from St. John's University, Collegeville, MN. Her ministries incorporated her many gifts and she served as a secondary teacher in English and Theology, St. Benedict Academy (1971-77); Director of Religious Education, St. Julia Parish, Erie (1977-79) and St. John the Baptist Parish, Erie (1979-1985); Food Service Manager, Mount St. Benedict Monastery (1985-87); Pastoral Minister, St. George Parish, Erie (1987-89); Associate Director of Worship for the Diocese of Erie (1990-1993); Adjunct Faculty of Religious Studies, Mercyhurst College (1992); and Director of the Mercyhurst Institute of Religious Education and Lay Ministry, Mercyhurst College (1994-96). After earning her B.A. in Fine Arts in 1999 and being honored with the Senior Art Award, Sister Kathleen was Director of the Monastery Grounds from 1999-2003. In 2003 she became the Director of Religious Education at St. Elizabeth Ann Seton Parish, Bear, DE, a position she held until 2008. From 2008 until February of 2012, she served as Pastoral Associate at St. John the Beloved Parish, Wilmington, DE.
Sister Kathleen was preceded in death by her father, Chester. She is survived by her Benedictine Community, mother Rosalyn, brother Richard and his wife, Diane, and their children: Allison Lolli, (John, and children Jack and Jake), Lauren Schlegel (Ryan), and Rich; sister Maryann Ammon and her husband, Charles, and their children: Renae Graeff (Derek), Charles, Eric, and Chelsea; as well as many good friends and co-workers.
Memorials may be made to the Benedictine Sisters of Erie, 6101 East Lake Road, Erie, PA 16511. Click here to offer an online memorial.