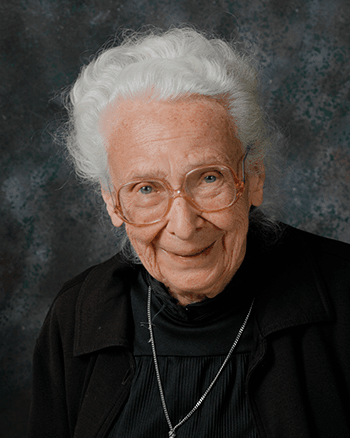 Sister Veronica Byer, OSB
April 7, 1919 - June 15, 2014
Gracious God,
our sister, Veronica,
ever faithful and always true,
now knows eternal life.
She has found her completion in you,
the God whom she loved and sought
with fervent constancy
and persistent dedication.
Veronica took pleasure
in the blessings of creation
and delighted in all things beautiful.
She recognized that everything on earth
is filled with sacred presence
and she found peace in the glory of nature.
God of all blessing,
may the memory of Veronica
and the simplicity she embodied
inspire us to savor the sweetness of life
with a transparent heart and a free spirit,
now and evermore.
Amen!
Sister Veronica Byer, OSB, died on Sunday, June 15, 2014, at Mount Saint Benedict Monastery in Erie, Pennsylvania. Born to Mary (Ksiazkiewicz) and Victor Byer on April 7, 1919, in Mahanoy City, Pennsylvania, she was 95 at the time of her death and in the 67th year of her religious life.
In 1947 Sister Veronica entered St. Mary's Priory, Victoria, British Columbia where she professed first vows in 1949 and perpetual vows in 1953. She transferred to St. Benedict Monastery, St. Joseph, Minnesota in 1963. In 1969, Sister Veronica moved to Erie to be closer to her aging mother and decided to begin the transfer process to the Benedictine Sisters of Erie in 1971. During this time she celebrated her Silver Jubilee (1974). The transfer was completed in 1975. Her Golden Jubilee was celebrated in 1999 and in 2009 Sister Veronica marked the 60th anniversary of her profession.
After spending 10 years as a Nurse Aide at St. Mary's Home, Erie, Sister Veronica was engaged in internal ministry at the monastery. She undertook household duties and support services and was also a Benet Press staff member. Most recently, Sister Veronica embraced the ministry of prayer and presence at the monastery. She was faithful to prayer and was never without her rosary as she walked the halls or the grounds.
Sister Veronica took great pleasure in God's creation and all things beautiful. She was an artist and was well known for the cloth dolls she sewed and dressed with carefully chosen outfits purchased from the Salvation Army or Good Will. Each doll was unique with a charming, hand painted face. In addition Sister Veronica was a master of illustration and rarely signed her name to a card or letter without the inclusion of a meaningful drawing.
In addition to her parents, Sister Veronica was preceded in death by five brothers and four sisters. She is survived by her Benedictine community, her brother, Victor, her sister, Kate (Stanley) Minarski, her sister-in-law, Shirley, and nieces and nephews.
Memorials may be made to the Benedictine Sisters of Erie, 6101 East Lake Road, Erie, PA 16511. Click here to offer an online memorial.