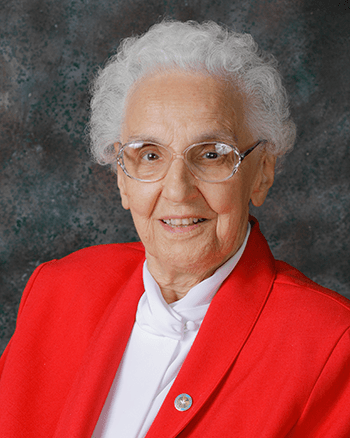 Sister Rita Pruchniewski, OSB
December 20, 1925 - August 16, 2014
God of all kindness,
our sister, Rita, has returned to you.
With effortless surrender and gracious acceptance
she passed from this life to the next,
where wholeness is found and peace is known.
Rita kept a smile on her face and a song in her heart.
She took delight in her community, her family and her friends.
She was enlivened and energized by the bonds of love.
Rita enjoyed the sweetness of life
and reveled in simple pleasures.
She was generous with kindness
and quick with compassion.
Gratitude was her stronghold,
a childlike wonder her charm,
a pleasant presence her appeal.
Gentle and gracious God,
we hold dear the memory of this sister
who has found her contentment in you.
May we who mourn her passing
find joy in her good fortune
and join with her in giving you glory
now and evermore. Amen!
Sister Rita Pruchniewski, OSB, 88, died on August 16, 2014, surrounded by community members and family. Sister Rita, formerly known as Sister Charles, was one of two daughters of the late Charles and Helen Pruchniewski. She attended both Holy Trinity and St. Hedwig parishes in Erie. She entered the Benedictine Sisters of Erie on June 30, 1943 and pronounced her perpetual vows on August 28, 1947. On August 5, 2014 she renewed her vows in celebration of 70 years of monastic profession.
Sister Rita held a Bachelor of Sacred Music from Manhattanville College in New York City and a Masters in Music, with a concentration in voice, from Duquesne University. She studied violin at the Eastman School of Music in Rochester, NY. She was an accomplished vocalist and violinist. Her ministry in music spanned 40 years and extended to many schools: Sacred Heart and St. Joseph, Sharon; St. Joseph and St. Stephen, Oil City; St. Gregory, North East; Immaculate Conception, Clarion; and St. Benedict Academy in Erie. She also shared her musical expertise as a member of the Erie Philharmonic Chorus and Erie Chamber Orchestra.
Accounting was another forte of hers and she put her skills to use in the Business Office at Mount Saint Benedict Monastery from 1973-1981 and as the bookkeeper at Benetwood Apartments from 1981-1991. In 1991 she became a reading instructor at St. Benedict Education Center, a ministry she continued until 1995. Sister Rita also held a number of community positions including local superior at various mission houses and member of the community liturgy committee. From 1983-1995 she served as Director of Oblates.
Most recently, as an infirmary resident, Sister Rita was engaged in the ministry of prayer and presence at Mount Saint Benedict Monastery. She took pleasure in visits from sisters, family members and friends, graciously extending hospitality and welcome to all with whom she came in contact.
Sister Rita was pre-deceased by her sister, Betty Jo Marz, in 2012, and brother-in-law, Bob Marz in 2014. She is survived by her Benedictine community, her nephew, Bob Marz and his wife Gerry; two nieces and their husbands: Rosemary and Bernard Niebauer and Helen and Robert Titus; and several great-nieces and nephews and great-great nieces and nephews.
Memorials may be made to the Benedictine Sisters of Erie, 6101 East Lake Road, Erie, PA 16511. Click here to offer an online memorial.