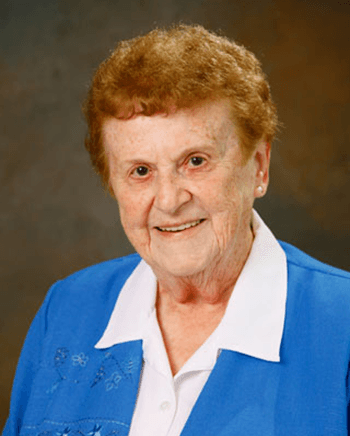 Sister Mary Therese Eichenlaub, OSB
April 25, 1928 - April 21, 2015
God of Wonder and Surprise,
our sister, Mary Therese, left us quickly and quietly,
without fuss or fanfare, as would have been her wish.
Mary Therese was as steadfast
as she was determined,
as strong as she was sensitive,
as capable as she was creative.
Her generosity knew no limits;
her thoughtfulness thrived on giving.
She took pleasure in reaching out
to the young and the old,
the defenseless and the vulnerable.
With enduring fortitude and bold candor
she exhibited stamina and resilience in the face of hardship,
and rejoiced in opportunities for celebration and fun.
Let us hold close the memory of this woman
whose devotion to community and family
was shown with attentive care and boundless love.
May her example of good deeds
inspire us to be unwavering in our effort
to do what is right and good, always and in all ways. Amen.
Sister Mary Therese Eichenlaub, OSB, 86, formerly Sister Mary Jane, died unexpectedly on April 21, 2015 at UPMC Hamot, Erie, Pennsylvania.
A native of Erie, Sister Mary Therese was the daughter of Louis and Gertrude (Rastatter) Eichenlaub. She was a 1947 graduate of St. Benedict Academy and entered the Benedictine Sisters of Erie the same year from St. Mary Parish. Her celebration of first vows in 1948 was followed by perpetual monastic profession in 1951. Having marked the milestones of 25, 50 and 60 years of vowed life, Sister Mary Therese was in the 68th year of her religious life at the time of her death.
Sister Mary Therese held a B.A. in Education from Villa Maria College and spent 25 years in elementary education, three of which were in administration. Her teaching assignments in the Diocese of Erie included: St. Gregory, North East; St. Stephen, Oil City; Immaculate Conception, Clarion; Sacred Heart and St. Joseph, Sharon; and St. Mary, Erie. In 1970 Sister Mary Therese began studies in cosmetology and after receiving her operator's license in 1972 she pursued her teaching certification and taught at the Wil-Mar Beauty Salon before becoming a full time hair stylist in 1973. At a time when this type of work was most unusual for a religious woman Sister Mary Therese recognized it as a very special ministry and an opportunity to live the Gospel by being attentive to her clients through conversation and a listening presence. She loved the challenge and creativity that the work afforded her and did it happily for more than 40 years. Sister Mary Therese also worked for a number of years as a staff member in the Business Office at Mount St. Benedict. Most recently, she was a monastery receptionist, greeting guests and answering the phone, a ministry in which she served until the time of her death.
Sister Mary Therese understood that a little kindness can go a long way and she never stopped looking for ways to help others. Her most recent outreach included donating a large collection of Beanie Babies to UPMC Hamot to become gifts of comfort for children undergoing medical procedures. She also made a weekly trip to the UPMC Hamot Surgery Center to collect "disposable" socks that she laundered, bagged and distributed to guests and clients at both Emmaus Ministries and St. Benedict Education Center.
In addition to her parents, Sister Mary Therese was preceded in death by her brother Robert and his wife, Rita, and her brother Jack. She is survived by her Benedictine community, her brother Richard (Patricia, deceased), her sister Katherine Nuber (James) and many nieces and nephews and their children to whom she was their beloved Aunt Mamie.
Services took place at Mount St. Benedict Monastery and included: Visitation, a Service of Memories, a Mass of Christian and Interment in Trinity Cemetery. Brugger Funeral Homes and Crematory, Pine Avenue Branch, 845 East 38th Street, was in charge of the arrangements.
Memorials may be made to the Benedictine Sisters of Erie, 6101 East Lake Road, Erie, PA 16511. Click here to offer an online memorial.