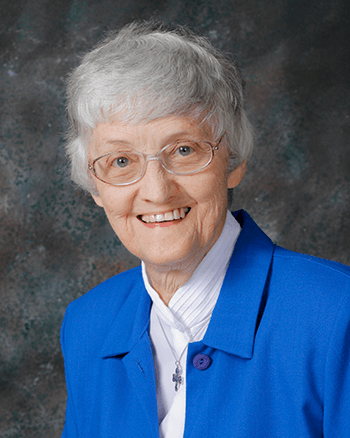 Sister Roberta Lavin, OSB
May 24, 1926 - February 24, 2017
Our sister, Roberta,
has passed from this life to the next.
With dignity, as befitting a woman
known to be well-mannered and precise,
she received the gift of eternal rest.
Roberta cultivated refinement
and esteemed courtesy,
sharing these qualities in community
and among family and friends
with grace and wit, constancy and care.
She was a revered teacher,
who, with patience and steadfastness,
was persistent in her efforts
to help students succeed.
Music and dance revealed
the sensitive and humble heart
of one who will be remembered
for her faithfulness and dedication
to the monastic way of life.
Loving God, may we be one with Roberta
in our praise of you, now and forever. Amen.
Sister Roberta Lavin, OSB, 90, died on February 24, 2017, at Mount Saint Benedict Monastery in Erie, Pennsylvania.
A native of Sharon, Pennsylvania, Sister Roberta was the daughter of John and Agnes (Dean) Lavin. She entered the Benedictine Sisters of Erie in 1946, pronounced her first vows in 1947 and perpetual monastic vows in 1950. She would have celebrated her jubilee of 70 years this summer.
Sister Roberta held a B.A. in Latin and Spanish from Villa Maria College, an M.A. in Educational Administration from Notre Dame University and Counselor Certification from Youngstown State University. For 34 years she used her gifts in education as an elementary and secondary teacher, secondary principal, piano teacher and guidance counselor at various schools in the Erie Diocese: St. Mary, St. Benedict Academy, Cathedral Preparatory School, (Erie); St. Michael (Fryburg), Immaculate Conception (Clarion), St. Bartholomew (Sharpsville), St. Joseph High School (Oil City), Kennedy Christian High School (Hermitage). Outside of the Erie Diocese, Sister Roberta spent time at Bishop Guertin High School in New Hampshire as teacher and secretary and as counselor at All Saints School in Wickliffe, Ohio. Following this, Sister Roberta ministered at St. Benedict Education Center (SBEC) for 18 years where she was director of Educational Programs, teacher and counselor. During this time she also served as liturgical dance instructor and consultant for children and youth in various places in Erie, Buffalo and Ohio.
Through the years Sister Roberta was engaged in internal community ministry as well and for a period of time she was the community's formation and vocation director. During and after her work at SBEC she was a Spanish and Latin language instructor for community members, preparing several sisters for service in Spanish-speaking areas and others for graduate studies requiring knowledge of Latin. Sister Roberta embraced the Rule of Benedict and especially loved these lines in Chapter 19: "We must always remember, therefore, what the prophet says: 'Serve the Holy One with reverence (Ps.2:11)' and again, 'Sing praise wisely (Ps. 46:8).'" The words that St. Benedict found in the Psalms reflected her love of music and dance which she shared generously as part of the community's liturgical life until 2013 when declining health prevented her from doing so. At the time of her death, Sister Roberta was engaged in the ministry of prayer and presence.
Sister Roberta was preceded in death by her parents and her brothers: Oswald, William, John and James. She is survived by her Benedictine community, her sister, Sister Jean Lavin, OSB, sister-in-law Ruth Lavin (James), many nieces and nephews and their children, and faithful friend, Kathleen Kutz.
Services will take place at Mount Saint Benedict Monastery: Visitation, Wednesday, 2:00– 7:00 p.m. and Thursday, 2:00 – 5:00 p.m., a Service of Memories on Wednesday at 7:00 p.m. and a Mass of Christian Burial on Thursday at 5:30 p.m. Interment will be on Friday at 8:15 a.m. in Trinity Cemetery. Memorials may be made to the Benedictine Sisters of Erie, 6101 East Lake Road, Erie, Pennsylvania 16511. Brugger Funeral Homes and Crematory, Pine Avenue Branch, 845 East 38th Street, is in charge of the arrangements.
Memorials may be made to the Benedictine Sisters of Erie, 6101 East Lake Road, Erie, PA 16511. Click here to offer an online memorial.