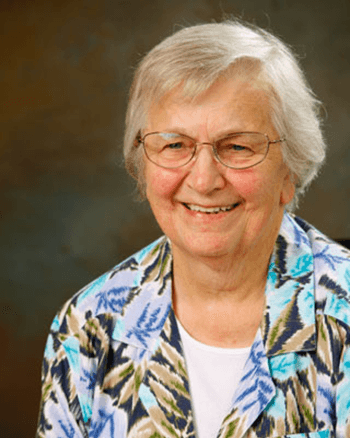 Sister Justina Gutowski, OSB
November 9, 1936 - June 30, 2019
Our sister, Justina, died as she lived:
quietly and peacefully,
surrounded by community
and encircled with love.
Throughout her monastic life
Justina was faithful and wholehearted.
She embraced the Rule of Benedict
with sincerity and integrity
and carried out ministry
with trustworthiness and reliability.
Care for family, friends, animals and all of creation
guided her living and sustained the steadfast presence
for which she was known and will be remembered.
God of all blessing, we rejoice in gratitude
for the fullness of life that Justina now enjoys.
May the memory of this kind, humble woman
inspire us to live life simply and well
so that you will be forever glorified. Amen.
Sister Justina Gutowski, OSB, 82, and in the 61st year of her religious life, died on June 30, 2019 at Mount Saint Benedict Monastery in Erie, Pennsylvania, surrounded by her sisters in community.
A native of Oil City and member of St. Joseph Parish, Sister Justina was the daughter of Antoinette (Puszak) and John Gutowski. She was a 1956 graduate of St. Benedict Academy and entered the Benedictine Sisters of Erie the same year. In 1961, she made her perpetual monastic profession.
Sister Justina was guided by the Rule of Benedict, particularly the phrase: "Let us prefer nothing to Christ." With Christ as her guide and companion, she ministered in the field of elementary education as a primary teacher in Erie diocesan schools: St. Michael, Fryburg; St. Joseph, Sharon; St. Gregory, North East; and Mt. Calvary, Erie. In addition she was responsible for care of the house at St. Stephen and St. Joseph, Oil City; and St. Michael, Fryburg. This was followed by her 22 year ministry at Benet Press, the community print shop, where she eventually, as manager, assumed responsibility for all aspects of its operation. When Benet Press closed in 1998, Sister Justina became Director of Food Services at the monastery, a position she held for 15 years. From 2013 until the time of her death Sister Justina was engaged in the ministry of prayer and presence and also volunteered clerical assistance to the business office as needed. The community was blessed by Sister Justina's quiet, steadfast presence and unwavering faithfulness to the monastic way of life.
Sister Justina was preceded in death by her parents, her brothers Norbert, Raymond and John; her sisters Joanne Carter and Martha Wydro; and her nephew Stephen Wydro. She is survived by her Benedictine community, her sisters Nancy Thornton and Loretta Caldwell; her brother Daniel and several nieces and nephews.
Services will take place at Mount Saint Benedict Monastery: Visitation, Tuesday, 2:00–7:00 p.m. and Wednesday, 2:00–5:00 p.m., a Service of Memories on Tuesday at 7:00 p.m. and a Mass of Christian Burial on Wednesday at 5:30 p.m. Interment will be on Friday at 8:15 a.m. in Trinity Cemetery. Memorials may be made to the Benedictine Sisters of Erie, 6101 East Lake Road, Erie, Pennsylvania 16511. Brugger Funeral Homes and Crematory, Pine Avenue Branch, 845 East 38th Street, is in charge of the arrangements.
Memorials may be made to the Benedictine Sisters of Erie, 6101 East Lake Road, Erie, PA 16511. Click here to offer an online memorial.