In Memoriam: Sister Bernadette Sullivan, OSB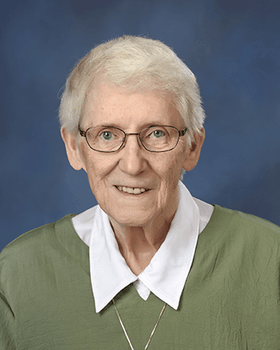 May 31, 1934 ─ March 3, 2022
God of all goodness, we ask you
to wrap our sister, Bernadette, in your embrace.
Though we will no longer hear her voice lifted in prayer
or catch the mischievous twinkle in her Irish eyes,
we take comfort in knowing that her spirit,
now freed, sings with the angels.
Whether teaching first and second graders,
her beloved "kiddos" of the 50s and 60s,
tenderly shaping their eager young minds,
or being the living presence of compassion
to patients and their families as hospital chaplain,
Sister Bernadette brought hearts to You
like flowers turning toward the sun.
May Sister Bernadette's great love for her family,
and her selfless love for her sisters in community,
remain with us who loved her in return.
Help us welcome each new day with joy and grace,
knowing that one day we, too, will sing with the angels.
Amen
Sister Bernadette Sullivan, OSB, 87, died on Thursday, March 3, 2022, at Mount Saint Benedict Monastery in Erie, Pennsylvania.
A native of Sharon, Pennsylvania, Sister Bernadette was the 12th child of Cecilia (Hammond) and John Sullivan. She was baptized and confirmed in her home parish of Sacred Heart in Sharon. After graduating from Sharon High School in 1952, Bernadette entered the Benedictine Sisters of Erie making her perpetual monastic profession in 1957 and taking the name Timothy. She later returned to her baptismal name.
Sister Bernadette's long teaching career began in 1954. She taught first and second grade in schools throughout the diocese until 1971, including St. Joseph, Oil City, St. Mary and Mount Calvary, Erie, St. Joseph and Sacred Heart, Sharon, and St. Michael, Fryburg. She taught at St. Benedict Academy in Erie from 1971 to 1975, when she left teaching and worked for two years at Benet Press, a printing ministry of the Benedictine Sisters.
In 1967 Sister Bernadette earned her Bachelor of Arts in Elementary Education at Mercyhurst College (now University). In 1971 she completed her Master of Interdisciplinary Arts degree at Manhattanville College in Harrison, NY.
In 1979, after completing the Clinical Pastoral Education (CPE) program at Trinity College and Walter Reed Hospital, Sister Bernadette began her second career as an ecumenical chaplain at Hamot Medical Center (now UPMC Hamot) in Erie. She retired from Hamot in 2013 after faithfully ministering to the sick and dying and their families for 34 years. During her time as chaplain, Sister Bernadette served two years as president of the Pennsylvania Society of Chaplains. She was a member of the National Association of Catholic Chaplains and served on the Erie Diocesan Medical/Moral Team. Sister Bernadette was also a member of the Hamot Aid Society and Hamot named her Ambassador of the Year in 1992.
After her retirement, Sister Bernadette continued to serve her Benedictine community in various ways to support the life and prayer of her monastic community.
Sister Bernadette was preceded in death by her parents and ten siblings: Mary Curry, Clara Petrini, John, James, Edward, Cecilia Bracken, William, Theresa, Timothy, and Alma Wagner. She is survived by her sister, Sister Cecilia Sullivan, OSB, her Benedictine community, and by many nieces, nephews, and their families.
Services will take place at Mount Saint Benedict Monastery: Tuesday, March 8, Visitation from 2:00–5:00 p.m. and a Service of Memories at 7:00 p.m.; Wednesday, March 9, Visitation from 2:00–5:00 p.m. and a Mass of Christian Burial at 5:30 p.m. Interment will be on Thursday, March 10 at 8:30 a.m. in Trinity Cemetery. Brugger Funeral Homes and Crematory, Pine Avenue Branch, 845 East 38th Street, is handling arrangements.
Memorials may be made to the Benedictine Sisters of Erie, 6101 East Lake Road, Erie, PA 16511. Click here to offer an online memorial.