In Memoriam: Sister Mary Bernadette Ladner, OSB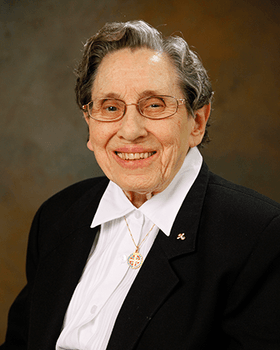 March 16, 1924 - April 5, 2021
O God, our sister, Mary Bernadette,
is now caught up in your loving embrace,
the quick pace and impulsive spirit of her youth
having gradually given way to the steady, kind presence
that graced our lives for many years.
Despite obstacles, Mary Bernadette remained firm
in her search for God, trusting the path
and keeping her eye on the Light of Life.
Whether teaching, leading or
hiking in the mountains with friends,
her singleness of purpose was evident
in her tender way of holding hearts and souls,
patiently listening, generously loving.
Her earthly journey complete,
we remember her life with gratitude, O God,
as we ask your blessing on our own journey.
Amen
Sister Mary Bernadette Ladner, OSB, 97, died on April 5, 2021, at Mount Saint Benedict Monastery in Erie, Pennsylvania.
Born in Philadelphia, Pennsylvania, Sister Mary Bernadette was baptized into the Episcopal Church and given the name Beatrice Marie by her parents Marie (Heller) and Harry Ladner. Her mother died when she was seven and she, her brother and father moved in with her grandmother Ladner. Her grandmother's Catholic housekeeper and companion was a great influence on Bea's faith, and she earned a BA in Religious Studies from St. Charles Borromeo Seminary in Wynnewood, Pennsylvania, in 1942.
Near the end of World War II, her only brother was reported killed in action. Hoping to meet someone who had been in his division, Bea volunteered to read to injured soldiers at Valley Forge Hospital. There she met a wounded chaplain, a Benedictine monk from Lisle, Illinois, who introduced her to monastic life. Eventually she converted to Catholicism and entered the Benedictine Sisters of Benet Lake, Wisconsin, in 1953 and made final monastic profession in 1958, taking the name Mary Bernadette, honoring her devotion to Our Lady of Lourdes.
Sister Mary Bernadette served as a religious educator and administrator in parishes in Wisconsin, Illinois, Michigan, and in Tucson, Arizona. In 1980 she was elected prioress at Holy Family Priory in Benet Lake and served two terms (eight years) during which time the community began a merger process with the Benedictine Sisters of Erie. The process was completed in 1991 and Sister Mary Bernadette's vows were transferred to the Benedictine Sisters of Erie.
During her years as prioress, Sister Mary Bernadette completed an MA in Religious Education, also from St. Charles Borromeo Seminary. Once in Erie, she taught two years at Kennedy Catholic High School in Hermitage, Pennsylvania, and then returned to Illinois as a Director of Religious Education for two years at Prince of Peace Parish in Lake Villa. In 1996 she returned to Erie and began working in the monastery library, a ministry she continued until 2016 when she retired.
Sister Mary Bernadette was preceded in death by her parents and only brother. She is survived by her cousins and her Benedictine community.
Due to guidelines concerning the Coronavirus, no public visitation will be held. A memorial Mass will be announced and celebrated at a future date at Mount Saint Benedict Monastery. A private interment will be held at Trinity Cemetery. Memorials may be made to the Benedictine Sisters of Erie, 6101 East Lake Road, Erie, Pennsylvania, 16511. Brugger Funeral Homes and Crematory, Pine Avenue Branch, is in charge of the arrangements.
Memorials may be made to the Benedictine Sisters of Erie, 6101 East Lake Road, Erie, PA 16511. Click here to offer an online memorial.