In Memoriam: Sister Mary Lou Kownacki, OSB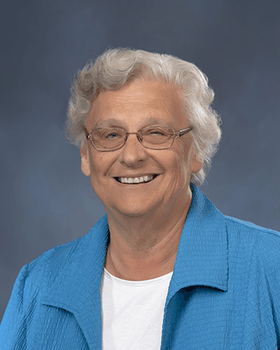 November 29, 1941 ─ January 6, 2023
God of infinite beauty, we know you have
received our sister, Mary Lou, with great
largesse of heart—just as she welcomed
the children, the poor, the stranger,
and each of us, her sisters, friends, and family.
As athlete, monk, poet, and prophet,
Sister Mary Lou lived and loved passionately.
She gifted us with poetry and verse,
spoke truth to injustice in church and state,
was a visionary of the peace movement,
and an advocate for the poor.
Our sister Mary Lou found joy everywhere:
in a meal shared with friends,
in cosmos and wild canaries,
in children's voices raised in laughter,
in dreams of what could be.
And of course, in a great round of golf.
Until we, too, rest in the heart of God,
Let us pray with Sister Mary Lou in her own words,
"Everything on earth is filled with sacred presence.
Let us bow down and worship." Amen
Sister Mary Lou Kownacki, OSB, died at Mount St. Benedict Monastery on January 6, 2023, after a three year-battle with uveal cancer.
She was born in Erie on November 29, 1941, to Mary (Krzyzan) and Edward Kownacki and baptized at Holy Trinity Church. She attended St. Benedict Academy and entered the Benedictine Sisters of Erie shortly after graduation in 1959. She made her final monastic profession on August 18, 1965, and received the name Sister Mary Sebastian.
Sister Mary Lou taught at schools in Erie, Sharon, Oil City, and Fryburg, PA, during her early years in community. In 1967 she took a year-long leave of absence during which she worked as a reporter for the Erie Daily Times. After she returned to the monastic community, Sister Mary Lou again taught in Oil City and in North East, PA. From 1971-1972 she returned to her position as reporter for the Erie Daily Times.
In 1972, she founded and coordinated Pax Center, a Christian Community for Nonviolence, an intentional community that engaged in peace education and action for nuclear disarmament and other social issues, offered hospitality to homeless women, and opened Emmaus Soup Kitchen in 1974. In addition to peace action and nonviolent witness, Sister Mary Lou received both a B.A. (1977) and an M.A. (1979) in Peace Studies from Antioch University in Antioch, OH, and taught peace studies at St. Benedict Academy, Villa Maria Academy, and Villa Maria College in Erie, and offered workshops around the country.
Sister Mary Lou published her first book, Peace Is Our Calling: Contemporary Monasticism and the Peace Movement, in 1981. She helped form Benedictines for Peace and served as National Coordinator from 1980-1985 when she became Pax Christi USA National Coordinator, a position she held until 1991. She left Pax Christi to become Executive Director of the Alliance for International Monasticism, U.S. Secretariat, until 2002. Concurrently she also served her community as Director of Development and Communications from 1992-2002.
In 1992 she began Benetvision Publishing to promote the writing of Sister Joan Chittister, and in 2012, Monasteries of the Heart, an online monastery, both of which she directed until shortly before her death. She founded the Inner-City Neighborhood Art House in 1995 and served as executive director and taught poetry to inner-city children there until 2005. She served on the Benedictine Sisters' Monastic Council from 1994-2002 and again from 2010-2020, and directed sisters in initial monastic formation from 1984-1990.
Many organizations honored Sister Mary Lou with awards and recognition for her work for peace, her efforts on behalf of children, and for her poetry and writing. She received the Alexis de Tocqueville Society Award for outstanding community service (2004), the Manhattan Institute Social Entrepreneurship Award (2006) and was named a Pax Christi USA Teacher of Peace (2006). Her book Between Two Souls: Conversations with Ryokan (Eerdmans) won a first place Independent Publisher Book Award (IPPY) in 2005.
Sister Mary Lou published several books of poetry as well as chapbooks of prayers and poems. Her writing appeared in National Catholic Reporter, Sojourners, Commonweal, and others. She compiled and edited numerous books during her time at Pax Christi and later for other publishers including Orbis Books.
The poor, especially children, held a special place in Sister Mary Lou's heart. With the help of friends, she organized the Trinity Square Foundation to renew the decaying inner-city block where she grew up, and created a Poetry Park as a small oasis of beauty for the children in the neighborhood today.
Her parents instilled in her a deep love of family and Polish tradition that brought loved ones together around food and ritual. Whether a Christmas Eve Wigilia, or the celebration of a special occasion, or sandwiches after a round of golf, Sister Mary Lou loved breaking bread with friends and family.
In whatever way one knew Sister Mary Lou: as prophet, monk, poet, or friend, she saw herself as an athlete—and she was, excelling in basketball at St. Benedict Academy and later becoming an avid golfer.
Sister Mary Lou was preceded in death by her parents Mary and Edward, her brother, Joseph, and her sister-in-law, Candace. She is survived by her Benedictine community, her beloved godson, Scott Lindsey, her brothers Edward and Jerry (Camille), sister-in-law Michele, and by many nieces and nephews and their families.
Services will take place at Mount Saint Benedict Monastery: Monday, January 9, Visitation from 2:00-5:00 p.m., Service of Memories at 7:00 p.m.; Tuesday, January 10, Visitation from 2:00-5:00 p.m. followed by a Liturgical Celebration of the of Life of Sister Mary Lou at 5:30 p.m. Brugger Funeral Homes and Crematory, Pine Avenue Branch, 845 East 38th Street, is handling arrangements. Memorials may be made to the Benedictine Sisters of Erie, 6101 East Lake Road, Erie, Pennsylvania, 16511, click here.