In Memoriam: Sister Mary Miller, OSB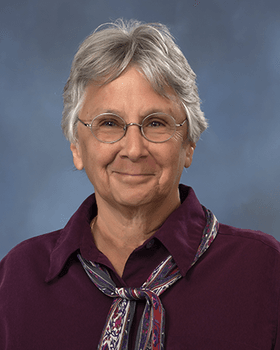 January 3, 1942 – May 14, 2023
O God, our sister, Mary, caught us
by surprise, running home to you
before we were ready to let her go.
She was without doubt Love's manifestation:
What mystery that Sister Mary's petite, gentle being 
could hold such a fierce and determined Love
for anyone who crossed her path, 
but especially for children and for the poor.
She was truly a monk in the inner city,
welcoming all with open arms, feeding the hungry,
planting flowers, and leaving beauty in her wake.
Just as your disciples on the road to Emmaus 
recognized you in the breaking of the bread,
so Sister Mary recognized you in the
brokenness of humanity, offering herself as Love.
And now, God, she has returned to you.
Let her continue to bless us until we, too, become Love. Amen
Sister Mary Miller, OSB, 81, died on May 14, 2023, at Mount Saint Benedict Monastery in Erie, Pennsylvania, after a short illness.
Sister Mary was born in Meadville, Pennsylvania, to Sylvia Mae (Hart) and Bernard Miller and was baptized in their home parish of St. Agatha. She graduated from St. Agatha High School in 1960 and entered the Sisters of St. Joseph in Erie, Pennsylvania, making final vows in 1969 and receiving the name Sister Gabrielle. 
While a Sister of St. Joseph, Sister Mary taught in elementary schools in the Diocese of Erie including Villa Maria, St. Ann, and St. Andrew in Erie and Notre Dame in Hermitage. She also served as principal at St. Andrew. She earned a Bachelor of Science degree in elementary education from Villa Maria College, Erie, in 1967 followed by a Master of Education degree in religious education from Boston College in 1974.
Sister Mary served as religious coordinator at St. John the Baptist Parish in Erie until 1979 when she began working in social services, first at Community House for Women and then, from 1981 until her death, as director of Emmaus Soup Kitchen, an outreach of the Benedictine Sisters. 
In 1984 Sister Mary began the transfer process from the Sisters of St. Joseph to the Benedictine Sisters of Erie, becoming fully incorporated in the Benedictine community in 1987.
During her 42 years leading Emmaus, its outreach grew from a soup kitchen that served a daily meal to Erie's hungry to a multi-faceted ministry of service to the poor, Emmaus Ministries. Sister Mary oversaw the expansion and improvement of physical facilities in addition to an increase in programs including the Emmaus Food Pantry, Sister Gus' Kids Cafe, and Emmaus Grove: The Erie Urban Farm School. The most recent Emmaus project was the establishment of The Studio at St. Mary's: Space to Create that opened in the former St. Mary's school building that also houses the Kids Cafe. The artistic space in the inner-city upholds the Emmaus mission of providing "bread for the body, care for the soul." It also won a 2017 Greater Erie Award from Preservation Erie for the building renovation that added stability, spirituality, and beauty to the neighborhood.
Another oasis of beauty in the inner-city overseen by Sister Mary is the East 22nd Street Poetry Park. Sister Mary was a co-founder of the Trinity Square Foundation, a non-profit organization dedicated to rehabilitating the East 22nd Street neighborhood where she lived and where the park is located.
For her many contributions within the Erie community, Sister Mary has received numerous awards and commendations, including Erie Times-News Achiever of the Year, 1993, Mercy Center for Women Woman Making History, 1995, Erie County Community Service Award, 1999, Gannon University Distinguished Pennsylvanian, 1999, and Erie Times-News Five People Who Made a Difference and Her Times Extraordinary Woman, 2012, Oscar Romero Social Justice Award from Mercyhurst University, 2016, Notre Dame Alumni Club of Erie Humanitarian of the Year Award, 2016.
Sister Mary was often invited by organizations, church congregations, and groups throughout the city to speak about her work with Emmaus. Equally soft-spoken and passionate, the stories of her personal relationships with the guests who dine at Emmaus made visible for her hearers the lives of those in Erie who are most often forgotten and overlooked.
When she was not attending to the needs of others, Sister Mary enjoyed reading, gardening, and golf.
She was preceded in death by her parents and her sister, Anne Miller. She is survived by her brother, Sam, her Benedictine community, and by many nieces, nephews, and their families. 
Memorials may be made to the Benedictine Sisters of Erie, 6101 East Lake Road, Erie, Pennsylvania, 16511, click here or to Emmaus Ministries, 345 E. 9th St, Erie, Pennsylvania, 16503, click here.