In Memoriam: Sister Mary Therese Egan, OSB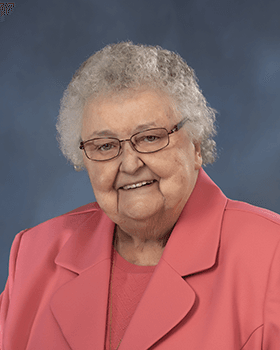 September 5, 1938 – September 16, 2023
Gracious God, welcome our sister, Mary Therese, home—
where she will know fully
what she always created beautifully,
the inexpressible delight of love.
She inspired confidence and calm in so many
as an educator, a principal, and a mentor.
When technology transformed our daily lives,
she patiently managed to make it accessible for us.
"Cheech" was Irish through and through.
Born into a strongly knit Irish family,
she was always fun-loving, enthusiastic and
ready for a celebration, especially 
when her favorite Pittsburgh Steelers won.
Even as life slowed for her, she embraced every day,
until, gently, she laid down a full and happy life
in the manner in which she had lived all her life: 
generous, kind and faithful to the end.
O God, may Sister Mary Therese's solid faith 
and true goodness live on in us.
Amen
Sister Mary Therese Egan, OSB, 85, died on Saturday, September 16, 2023, at Mount Saint Benedict Monastery in Erie, Pennsylvania.
A native of Oil, City, Pennsylvania, Sister Mary Therese was the daughter of the late Margaret (Linehan) and Edward Egan. She was baptized and confirmed at her home parish of St. Joseph.
Sister Mary Therese entered the Benedictine Sisters community in 1956, pronouncing her perpetual monastic profession in 1961 as Sister Ricarda. In 2018 she celebrated her 60th jubilee of first profession. Within the community she served a term as a member of the Monastic Council from 1978-1982.
She graduated from St. Joseph High School in Oil City and earned her Bachelor of Arts in Elementary Education from Mercyhurst College, and her Masters in Elementary Education from Edinboro University. Throughout the 1980s and 90s, she attended and received certifications in the field of computer technology at numerous colleges and computer workshops.
Her many years of ministry include elementary school teaching at Sacred Heart School in Sharon, PA, Immaculate Conception School in Clarion, PA, St. Joseph School in Sharon, PA, St. Stephen School in Oil City, PA, Mount Calvary School in Erie, All Saints School in Wickliffe, OH, and Our Lady of Good Counsel School in Vienna, VA. Additionally, Sister Mary Therese served in administration at Immaculate Conception, Mount Calvary and All Saints schools.
In Virginia she set up the school's first computer lab and trained teachers and all personnel in data systems and various educational computer programs. In 1995 she accompanied another sister to Dodge City, KS, for ministry. In Dodge City she worked for the Dodge City Catholic diocese in the position of Computer Tech/ITV Coordinator. Returning to Erie in 2002 she was named Director of Information Technology for the Benedictine Sisters and oversaw both the computer and telephone systems for the community until her retirement.
Sister Mary Therese was extremely proud of her Irish heritage and shared her great Irish wit with everyone she met and at every St. Patrick's party she attended. The Korean people and their culture became close to her heart when her brother, Fr. Tom, served as a missionary in both China and Korea, which she visited while he was there. Back home, during the football season, her loyalties and enthusiasm belonged to the Pittsburgh Steelers whose games became the highlight of every week.
Sister Mary Therese was preceded in death by her parents and her brothers, Jack, Daniel, Edward, and Joseph Egan. She is survived by her brother, Father Thomas Egan, M.M. of Maryknoll, NY, many nieces and nephews, and her Benedictine community.
Services will take place at Mount Saint Benedict Monastery: Monday, September 18, Visitation 2:00-5:00 p.m. and a Service of Memories at 7:00 p.m. Tuesday, September 19, Visitation from 2:00-5:00 p.m. with a Mass of Christian Burial at 5:30 p.m. Interment will be on Wednesday, September 20, at 8:30 a.m. at Trinity Cemetery. Brugger Funeral Homes and Crematory, Pine Avenue Branch, 845 E. 38th St. is handling arrangements. 
Memorials may be made to the Benedictine Sisters of Erie, 6101 East Lake Road, Erie, Pennsylvania, 16511, click here.