In Memoriam: Sister Mary (William) Hoffman, OSB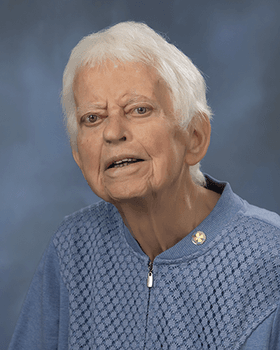 April 24, 1929 ─ September 26, 2021
God of all that grows, and blooms, and barks,
receive our Sister Mary into your heavenly garden,
the perfect resting place for one who dedicated her life
to lovingly tending your earth and
teaching, nurturing, and caring for your people.
With a sharp mind and a caring soul,
she encouraged excellence in the classroom,
and brought lightness to every task.
In pastoral ministry with seniors, and
parishioners in rural ministry, her gentle presence
and easy humor opened homes and hearts
to the God she loved.
Her work in the earthly garden now complete,
Sister Mary's presence remains with us
in the monastery woods she planted tree by tree
more than fifty years ago.
O God, we now ask that for the good of all your creation,
you grow in us the love and kindness sown by Sister Mary.
Amen

Sister Mary (William) Hoffman, OSB, 92, died on September 26, 2021, at Mount Saint Benedict Monastery in Erie, Pennsylvania.
Born in North Collins, New York, Sister Mary was baptized Jane Veronica by her parents, Emil and Veronica (Schrader) Hoffman. She grew up in North Collins with her parents and brother, Paul. The year after she graduated high school in 1946, she boarded a train bound for Erie and presented herself at the door of the convent and declared she wanted to be a sister. She was given the religious name Mary William and made her final monastic profession on August 22, 1952. She later changed her name to Sister Mary.
Sister Mary taught elementary and secondary education in Erie Diocesan schools: St. Stephen and St. Joseph in Oil City, St. Gregory in North East, Immaculate Conception in Clarion, and St. Benedict Academy in Erie. She earned a B.A. in Sciences at Mercyhurst College (now University) and an M.Ed. in math and physics from Catholic University of America. For many years she was the local director of the Pennsylvania Junior Academy of Science. While on the SBA faculty from 1964-1978, she led many groups of students on European study programs.
In 1978 she left teaching to move to Hermitage, PA, with her close friend, Sister Phyllis Schleicher, who had been named administrator of St. John XXIII Home in Hermitage. Sister Mary served as a parttime accountant at St. John XXIII and taught at Kennedy Catholic High School before becoming full-time activities director at St. John XXIII.
In 1990 Sister Mary returned to Erie with Sister Phyllis, who had been elected prioress of the Benedictine community. She served one year as bookkeeper for the East Coast Migrant Head Start program before becoming assistant manager and program director at Benetwood Apartments. Nine years later, after Sister Phyllis had completed her time as prioress, she and Sister Mary moved to Potter County, PA, and became the founders and first directors of Catholic Rural Ministry in the Diocese of Erie.
Sister Mary spent the next 21 years living and working in Potter and McKean Counties, the eastern, rural part of the Diocese of Erie, where her missionary spirit found purpose as she and Sister Phyllis poured themselves into building relationships with the people in the parishes of those rural counties, offering them the Benedictine gifts of hospitality, prayer, and service.
When not engaged with ministry or the commitments of Benedictine community, Sister Mary was happiest outdoors, planting and gardening, walking, and playing with her dog. Seven thousand trees that make up the woods on the monastery grounds owe their existence to Sister Mary who, with her St. Benedict Academy students, planted them in the 1970s.
Sister Mary was preceded in death by her parents, her brother Paul and sister-in-law Peg. She is survived by her Benedictine community.
Masks are required to attend services at Mount Saint Benedict Monastery: Visitation, Tuesday, September 28, 2:00-5:00 p.m. and Wednesday September 29, 2:00-5:00 p.m., a Service of Memories on Tuesday at 7:00 p.m., and a Mass of Christian Burial on Wednesday at 5:30 p.m. Interment will be on Thursday, September 30 at 8:30 a.m., Holy Trinity Cemetery. Memorials may be made to the Benedictine Sisters of Erie, 6101 East Lake Road, Erie, Pennsylvania 16511. Brugger Funeral Homes and Crematory, Pine Avenue Branch, 845 East 38th Street, is in charge of the arrangements.
Memorials may be made to the Benedictine Sisters of Erie, 6101 East Lake Road, Erie, PA 16511. Click here to offer an online memorial.