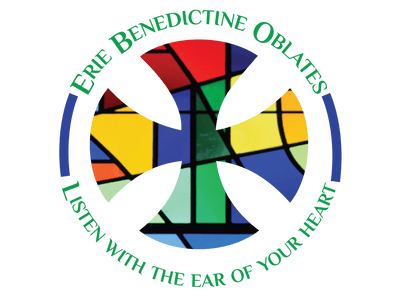 Community Weekend and Oblate Commitment Ceremony October 2023
Mary Novak, Executive Director of NETWORK Lobby for Catholic Social Justice, provided insight and challenge as the featured presenter at the annual Benedictine Community Weekend the end of October. On Friday evening, in a collaborative effort to share her message more widely, the Benedictine community partnered with the Episcopal Cathedral of St. Paul to host Mary's presentation, "Engagement in the Public Square, a spiritual practice," in downtown Erie.
On Saturday, Mary offered a day-long workshop, "Peace Building in the US Catholic Church Today," for Benedictine sisters and oblates at Mount St. Benedict Monastery. She addressed aspects of conflict and the work of conflict transformation and how crucial such peace building work is in our country today as well as around the world. A segment on forgiveness and reconciliation included examples of Mary's peace building work. Synodality, she pointed out, privileges the values and practices we need to be peace builders. An interview with Mary is in the new issue of The Mount magazine, click here.
In addition to Mary's presentations, more than 70 oblates gathered at Glinodo Center during the day on Friday to consider their vocation--a way of life that brings a Benedictine presence to the many places, organizations, and people they encounter each day--and to examine the ways in which they support the fundamentals of Benedictine life: prayer, community, and ministry.
The annual Oblate Commitment Ceremony took place in the monastery chapel on Saturday evening and was streamed to oblates who could not be present. At the ceremony, 48 oblates were acknowledged for their long-time commitments of 25 years or more. Four women completed their two-year oblate formation period and made their first annual commitment and six people became oblate candidates. They have completed their first year of oblate formation and will spend the next year in continued discernment and formation.
To learn more about what it means to become an oblate, click here.
The photographs below are by Oblate Jo Clarke.
 
Community Weekend October 2023