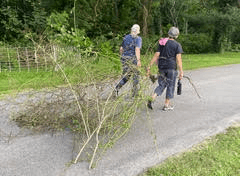 The herd of working goats from Let's Goat Buffalo has only been at Glinodo for a few days, but the team has already made significant progress freeing the trees along Seven-Mile Creek from poison ivy, multiflora rose, and other invasive species.
There are 11 goats at Glinodo, including 10 who were sent intentionally, and one who snuck onto the bus while it was being loaded and wasn't noticed until he was already hard at work in Erie. He and the rest of the herd are happily spending the bulk of each day eating leaves, thorns, and berries off of the invasive rose bushes, and climbing and standing on their hind legs to nibble poison ivy off of trees.
The goats are hemmed in by a solar-powered electric fence that keeps them from wandering too far away from the task at hand, and in just a few days, they've chewed their way through about one hundred yards of what was once overgrown, thorny bramble.
The multiflora rose bushes, stripped of all their invasive foliage, still tower up to 10 feet in the air, but they are much easier to remove now, since most of their thorns are gone and their leaves are no longer in the way. After Sister Jacqueline Sanchez-Small uprooted a large bush with a few quick tugs of an "extractigator," Sisters Anne McCarthy and Kathy McCarthy, who were walking by on their way to watch the sun set over Lake Erie, dragged the bush to the campfire pit where it will eventually provide fuel for making s'mores.
Just a few hours before, the goats and their work at the monastery were highlighted on the morning news in Buffalo. Click here to watch the story, which is mostly about how the local community helped Let's Goat Buffalo get back on their feet after a fire destroyed their first retro-fitted bus/camper/barn last year. Guests are welcome to come watch the goats at work during the day. Unfortunately, because the goats are always rubbing up against poison ivy, it's very inadvisable to pet them!