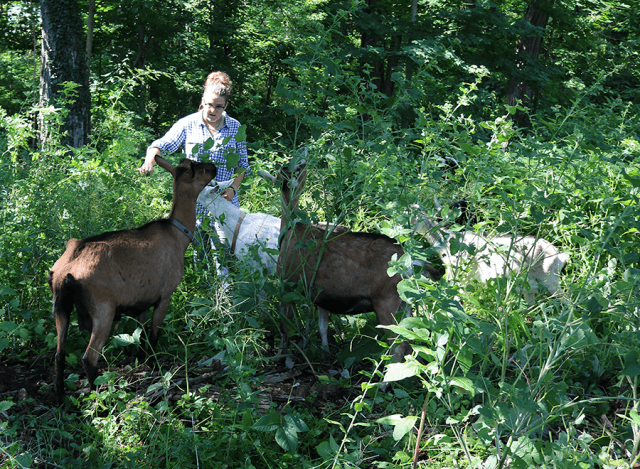 Jennifer Zeitler follows what gives her energy--in other words, she "runs while she has the light of life," as St. Benedict instructs in his Rule.
Jennifer is the creative visionary behind Let's Goat Buffalo, the goats-for-rent business that she founded in 2018 and whose goats are now clearing the woods of invasive species along Seven-Mile Creek on the Benedictine Sisters' Glinodo grounds.
The goat renting business is not something Jen consciously sought out. More accurately, it found her and, finding it gave her energy, she followed it. "And I had to have faith and trust in myself to know that if I took the risk and lost it all, I wouldn't have lost all my skills and knowledge and experience and background. We can always find solutions in times of crisis. And the idea that we're all that secure in any given situation is false," she explained. Pieces fell into place and guided Jen like breadcrumbs on a trail as she imagined what was possible. She was raising bees as a hobby but had a hard time accessing the apiary that was overgrown with underbrush. Someone suggested goats and her research suggested that would be the most practical solution. In looking for goats to rent, she found none but she was offered animals that had "aged out" and were no longer productive farm animals and who would be sacrificed. So she fell into "rescue goats" and now her herds are made up of such "non-productive" animals whom she names and cares for and works with.
Let's Goat Buffalo now has 20 goats and two staff persons in addition to Jen.
There's much more to Jen's story, stay tuned!