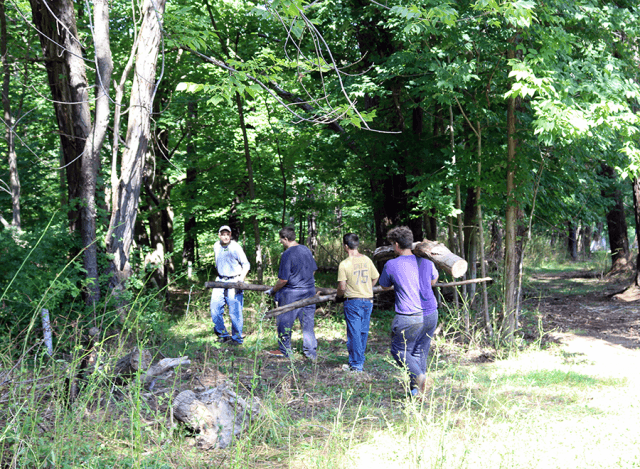 Volunteers from Harborcreek Youth Services and their teacher, Ken Link, took advantage of newly-shorn brush to start clearing out areas where the hired goats had been eating. The 11 students spent a day working along side the creek, including lining trail edges with logs.
"The work these young men offered got us a bit closer to our goal of making the trails and area around the creek more accessible. We've had other volunteers helping us, too, and are grateful for the help of all those who come out to spend some time clearing, moving logs, and pulling roots. We want to keep making it easier for people to enjoy the incredible natural beauty along the creek," said Sister Annette Marshall, member of the community's Care for the Earth Committee.
The herd of 11 goats have been slowly making their way along the creek for nearly four weeks. Their goatherds move the fencing that protects them every few days as they clean out one area and are ready to move to the next. It can be tricky maneuvering moving the fencing without creating unwanted openings in the process. This week, one of the goats, Danny, managed to slip out during the fence moving and it took Jen, the goatherd on duty, about an hour to coax him back into the fence.
"He's really afraid of people," she explained, "so he wouldn't come to me. But eventually he realized he didn't want to be alone—he's a very loyal member of the herd, likes to be with everyone else—so he came back in."
On Danny's profile page at Let's Goat Buffalo, it explains, "Danny is not a very cuddly guy. In fact, he is pretty much afraid of everything. This nervous guy joined us as a male goat with no other purpose. He originally came to us on a trial basis because we weren't sure if our frightened friend would get on the bus! (Literally!) Danny has turned out to be the most loyal herd member. He will not go anywhere without his mates, or be left behind!"