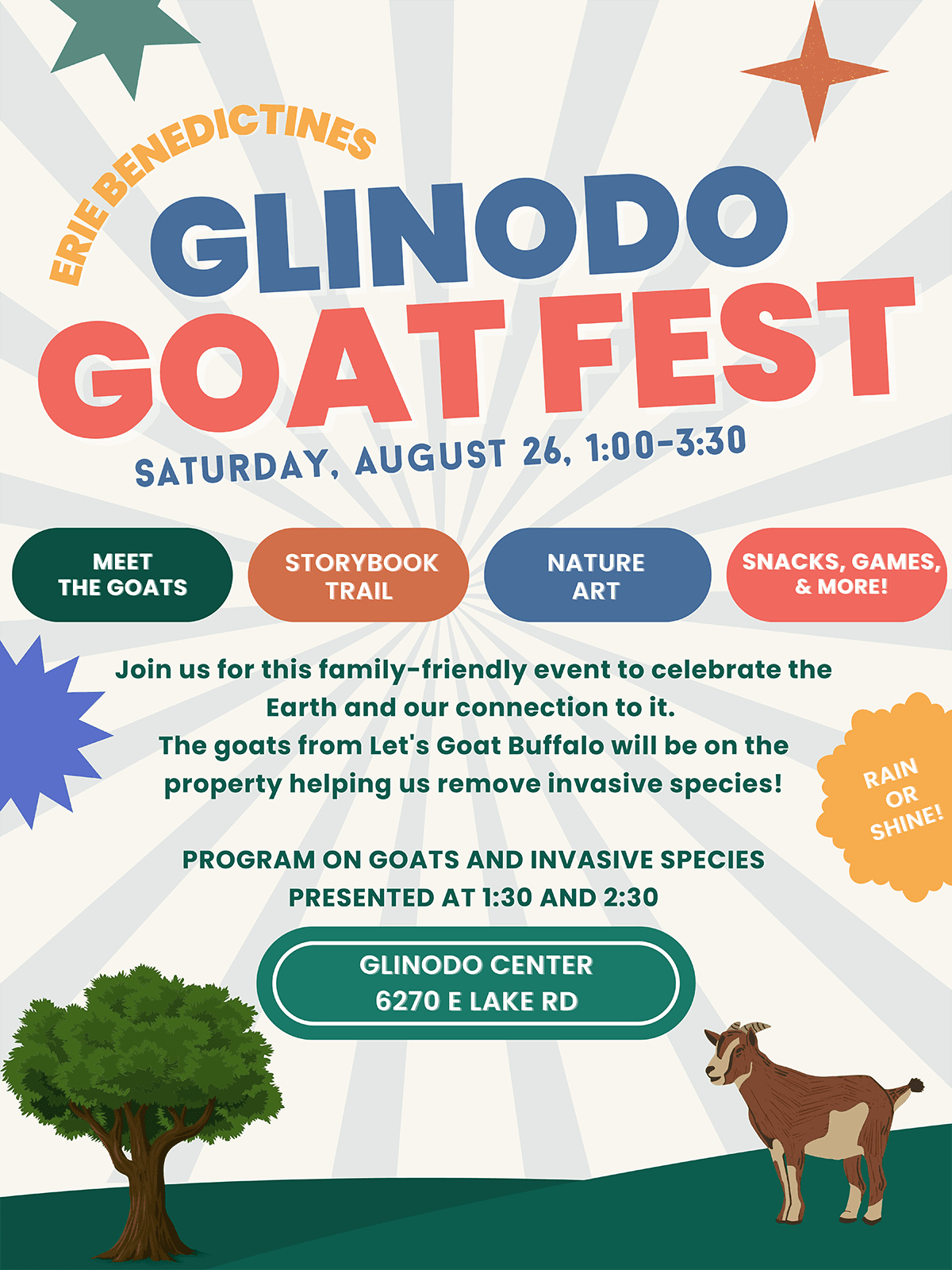 For the second year, the Benedictine Sisters of Erie will welcome a heard of goats and their goatherd from Buffalo, NY in late August to help clear out invasive species on the sisters' Glinodo property.
Many of the trails at Glinodo have become overrun with multiflora rose, as well as other invasive species that ultimately kill off native trees and plants by monopolizing the resources needed to thrive. This affects habitats for animals, and speeds up erosion of the creek. While chemical spraying is an option, using the goats is more in line with the Benedictine Sisters' corporate commitment to "be a healing presence and prophetic witness for peace and justice by actively addressing the climate crisis and the rights of women and children."
Sister Jacqueline Sanchez-Small, who invited these goats from Let's Goat Buffalo last year, says that "we are passionate about our commitment to care for the Earth. By removing the invasive species, we restore the natural habitats, and by doing so without pesticides, we do it in a way that also protects our waterways that we are directly connected to." The goats made significant progress last year, and many human volunteers then helped to re-chip the trails to make them accessible once again.
Last year, many people were fascinated by these goats, and watching them "work." In response, this year the Benedictines are hosting the Glinodo Goat Fest on Saturday, August 26 so that the public can watch the goats, and enjoy a day celebrating the Earth and our connection to it. Sister Annette Marshall, with the Care for the Earth committee, says that "we are excited to invite our neighbors and the Erie community to Glinodo to enjoy this space with us, watch the goats work, and learn about these invasive species that are in many of our backyards."
The Glinodo Goat Fest is free and will take place on Saturday, August 26 from 1-3:30pm. The event is family-friendly, and will include a storybook trail, nature art, snacks, and games. There will be a brief presentation at 1:30 and again at 2:30 about the goats and invasive species. Of course, there will also be opportunity to meet the goats.
Download a Goat Fest flier. We continue to raise funds to pay the goats and their goatherd...if you can contribute to our "Goat Fund Me" campaign, we'd be grateful! Click here.