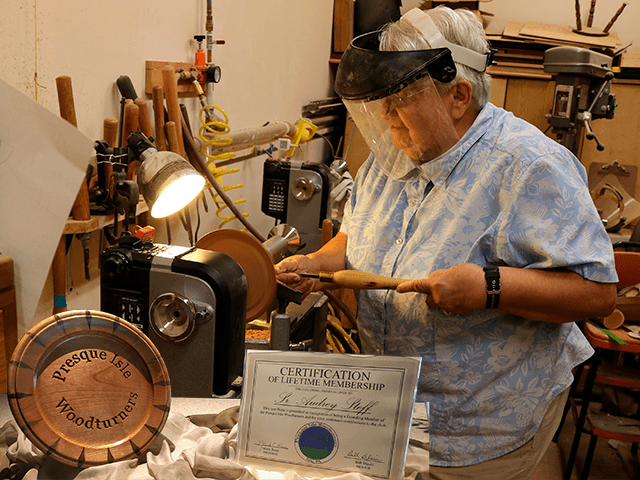 Woodturner Sister Audrey Steff was recently awarded a lifetime membership in the Presque Isle Woodturners--an organization of which she was a founding member 25 years ago. "There are only three of the original founding members remaining," she explained. "And one of them thought that founding members should no longer have to pay dues."
Sister Audrey laughed as she went on to explain that she had never paid dues, that one of the guys always paid for her. "My check would be returned," she said.
It's been more than 40 years since Sister Audrey began wood turning—an art that she discovered by accident. She had been experimenting (unsuccessfully) with pottery when a student's family invited her for dinner. The student's dad had a workshop and showed her how the lathe worked. "He put some wood on it, started it turning, handed me a tool and told me to make something," she said. "I was hooked." A few days her friend Bob and his father delivered a hand-built lathe, four tools and a box of wood to the monastery—and Audrey began teaching herself how to turn wood and she hasn't turned back. She now works out of a small workroom in the monastery basement and offers her beautifully crafted bowls, candleholders and other works for sale in the monastery gift shop, Chapter 57.
All the while she has been a woodturner, Sister Audrey has also been an educator. For more than 30 years she was an elementary teacher and principal and then she spent 20 years teaching adult refugees at St. Benedict Education Center. After retirement she was able to dedicate more time to wood turning. She celebrated her 60th anniversary of Benedictine life in 2021.
The Presque Isle Woodturners has grown to about 40 members, including some younger members, both men and women. Sister Audrey explained that the group helps members fine-tune their skills and learn new techniques. They have brought in demonstrators from around the world over the years. There is also a social aspect including an annual picnic.