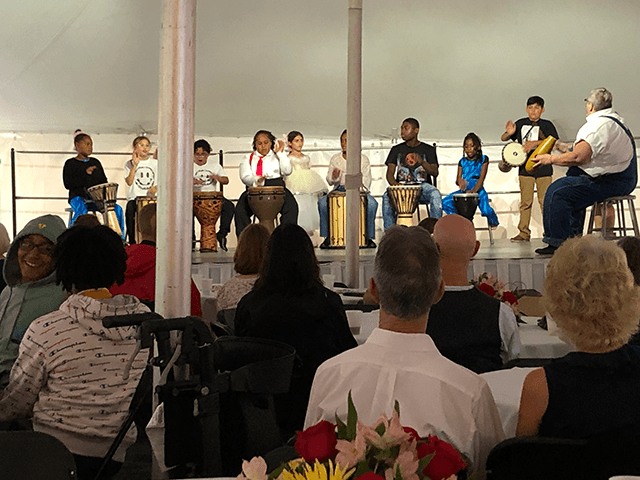 The 2023 Taste of the Arts Neighborhood Art House annual fundraiser, "Sights and Sounds of the Art House," brought together young artists and performers, staff, sisters, friends, donors, and guests to celebrate an evening of beauty and hope "under the tent" in the Art House parking lot. Sean Laferty of WJET TV served as program emcee for an evening that included live performance, art displays, live art demonstrations, and many opportunities to offer donations in support of the Art House and the children it serves. Cocktails and food stations were scattered throughout the tent.
Executive director Kelly Stolar welcomed guests and Sister Pat Lupo offered a dedication to Sister Mary Lou Kownacki, founder and first executive director of the Art House, and Sister Mary Miller, instrumental in making the space where the Art House is located at 10th and Holland Streets an oasis of beauty. These are Sister Pat's words:
As we gather this evening amidst the Sights and Sounds of the Art House, we are missing two extraordinary women who initiated these very sights and sounds.
When Sister Mary Lou Kownacki and Sister Mary Miller are mentioned, inarguably people call them pillars of the Erie Community.
Mary Lou, the visionary, saw this sanctuary for children of the Inner City; and Mary, the builder, took the dream and turned an old tire building into a magnificent oasis in the center of the city.
Together with the other sisters, the Core Committee of Women and the first teachers they created an outstanding program for the arts over 25 years ago.
Tonight, we dedicate this program to their memory and call on them as we move forward – each day expanding their dream as we continue to create the sights and sounds that fill us all with joy and hope for the future of the children.
Visit the Art House website to learn more.