Benedictine Blackout: A Spiritual Solar Eclipse Experience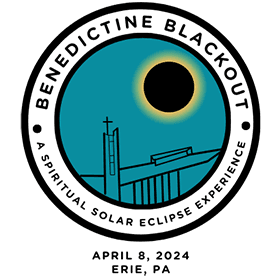 The solar eclipse on Monday, April 8, 2024 will pass over Lake Erie in Erie, Pennsylvania. Calculations indicate that Erie won't see another such eclipse for more than 100 years.
At the monastery we're going to mark the occasion with Benedictine Blackout: A Spiritual Solar Eclipse Event. We will welcome guests to join us on our Glinodo lakefront to watch the eclipse and enjoy pre- and post-eclipse prayer, recreation, celebration, and refreshments.
If you'd like to be notified of plans as they are available sign up for our email list here. Our monthly email, the Good Zeal Zine, will provide updated information each month. Tickets are free but they will be necessary for access—the Good Zeal Zine will let you know when a ticket request form is posted.
We look forward to celebrating this once-in-a-lifetime miracle of nature with you on the monastery grounds. For general information on the 2024 total eclipse, see the National Eclipse website here.
SIGN ONTO OUR EMAIL LIST HERE >>>