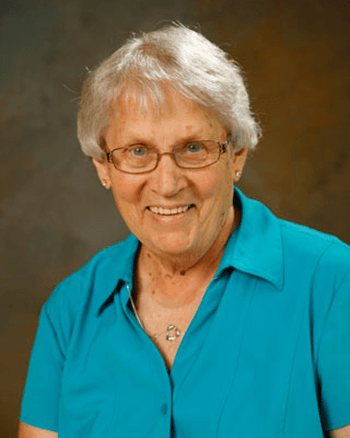 Sister Rita Groner, OSB
March 18, 1932 - July 13, 2016
Our sister, Rita,
passed peacefully from this world to the next
with the quiet simplicity
that marked her person and presence.
Rita saw good and responded to it.
Her love of children, animals and all of creation
energized her life and enlivened her heart,
keeping her open and aware as she aged in place
and lived a full life with gratitude and generosity.
Her kindness and affirmation touched many;
her mindfulness of community and family,
manifested with love and attention,
was a testimony to her sensitivity and compassion.
We reverence the memory of this grace-filled woman.
We pray that her example will inspire us
in our efforts to live life well
with warmth and wonder, constancy and care,
now and evermore. Amen
Sister Rita Groner, OSB, 84, formerly Sister Germaine, died on July 13, 2016 at Mount Saint Benedict Monastery after a brief illness.
Sister Rita was born in Marble , PA to Henry and Agnes (Hartle) Groner and grew up as a member of St. Michael Church, Fryburg, PA. She entered the Benedictine Sisters of Erie in 1948 and finished her high school education at St. Benedict Academy. Her first vows in 1950 were followed by perpetual monastic profession in 1953. Having marked the milestones of 25, 50 and 60 years of vowed life, Sister Rita was in the 66th year of her religious life at the time of her death.
Sister Rita held a B.S. in Education from Villa Maria College and spent 44 years in elementary education before becoming an assistant teacher and then a teacher aide at St. Benedict Child Development Center where she ministered for 18 years. Her teaching assignments in the Diocese of Erie included: St. Gregory, North East; Sacred Heart and St. Joseph, Sharon; Immaculate Conception, Clarion; and St. Stephen, Oil City. In addition she taught summer religious education over the years in Emlenton, Coudersport, Rouseville, Titusville and Oil City. Sister Rita credited the children she encountered through the years for teaching her the simplicity and love of life that kept her young at heart.
In 2007 Sister Rita embarked on a special adventure that ultimately led to her becoming a certified member of Therapy Dogs United (TDU), a ministry she began in 2008 and in which she was still in engaged at the time of her death. Together with Sister Carolann McLaughlin, OSB and their therapy dog, Rusty, Sister Rita visited nursing homes, schools and hospitals, ministering to the elderly and the young, helping others and growing personally.
In addition to her parents, Sister Rita was preceded in death by her step-mother, Winifred McGarry Groner, brothers Stephen and John, and sisters Germaine Groner and Mary Grace Winger (Lester). She is survived by her Benedictine community, and her sisters, Helen Strickenberger (Kenneth, deceased), Jean Marie Shaffer, Patricia [Jane] Wright (Chuck) and Judith Groner, as well as many nieces and nephews.
Services took place at Mount St. Benedict Monastery and included: Visitation, a Service of Memories, a Mass of Christian Burial, and Interment in Trinity Cemetery. Brugger Funeral Homes and Crematory, Pine Avenue Branch, 845 East 38th Street, was in charge of the arrangements.
Memorials may be made to the Benedictine Sisters of Erie, 6101 East Lake Road, Erie, PA 16511. Click here to offer an online memorial.