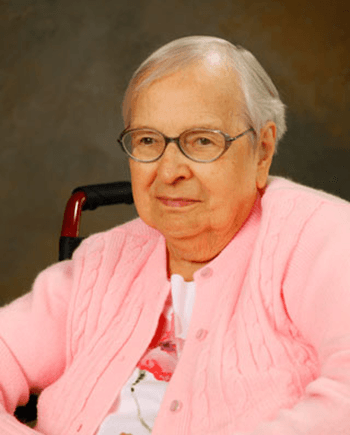 Sister Bernadette Lorei, OSB
December 9, 1926 - November 22, 2016
God of enduring love,
our sister, Bernadette,
now enjoys her eternal rest.
Throughout her religious life
she was self-disciplined and hard-working,
steadfast in her commitment to community,
faithful to prayer, and dedicated to ministry.
A soft heart lived within her
and a sparkle in her eye
belied the fierce spirit of determination
for which she was known.
Her family was a cherished blessing
and she was unfailing in her gratitude
for gestures of kindness and attention
from the sisters and her loved ones.
May we hold dear the memory
of this simple and unassuming woman
whose integrity and single-minded devotion
in seeking God each and every day
leaves us an example to live
now and forever. Amen.
Sister Bernadette Lorei, OSB, 89, died peacefully on November 22, 2016, at Mount Saint Benedict Monastery in Erie, Pennsylvania.
A native of St. Boniface Parish, Hammett, PA, Sister Bernadette was the daughter of Albert and Ellanora Trott Lorei. She was a 1944 graduate of St. Benedict Academy and entered the Benedictine Sisters of Erie the same year. Her celebration of first vows in 1946 was followed by perpetual monastic profession in 1949. Having marked the milestones of 25, 50, 60 and 70 years of vowed life, Sister Bernadette was in the 71st year of her religious life at the time of her death and a strong witness to commitment and stability in the Benedictine way of life.
Sister Bernadette held a B.S. in Elementary Education from Villa Maria College and was an exceptional elementary teacher for 48 years, most of them at St. Mary's School, Erie where she was also principal for a time and then secretary in the years directly preceding the school's closing. She was lovingly known as "Sister B" and her care and concern for her students was beyond measure. She also taught in several other Erie diocesan schools: Sacred Heart and St. Joseph, Sharon; St. Stephen, Oil City; St. Michael, Fryburg; and Mount Calvary, Erie. With the closing of St. Mary's School in 1994, Sister Bernadette undertook internal ministry in the community infirmary, cooking and serving meals for infirmary residents and assisting them as needed for many years until stopped by declining health. She maintained her commitment to the infirm by visiting the residents and offering comfort and peace to the aged and the ill. At the time of her death, herself an infirmary resident, Sister Bernadette was engaged in the ministry of prayer and presence.
Growing up in a large, close-knit family and having worked the family farm, Sister Bernadette learned at an early age to be dependent, diligent and careful in her work while respecting both work and worker. She also learned the value of relationships and maintained strong bonds with her family who were very faithful to her through the years.
In addition to her parents, Sister Bernadette was preceded in death by three brothers: Msgr. Louis H. Lorei, Charles and Alfred Lorei; and three sisters: Loretta Meyers, Sister Anita Lorei, SSJ, and Florence Krumpe. She is survived by her Benedictine community, three sisters: Cecilia Schneyer and her husband Jack (Long Island, NY), Marie Mifsud (Grove City), and Suzanne Kania (Erie); two brothers, John Lorei and his wife Evelyn (Marion, Iowa) and Joseph Lorei and his wife Marge (Erie); one brother-in-law, Earl Meyers (Tidioute) and many nieces and nephews and their children.
Services will take place at Mount Saint Benedict Monastery: Visitation, Tuesday, 2:00-7:00 p.m. and Wednesday, 2:00-5:00 p.m., a Service of Memories on Tuesday at 7:00 p.m., and a Mass of Christian Burial on Wednesday at 5:30 p.m. Interment will be on Thursday at 8:15 a.m., Trinity Cemetery. Memorials may be made to the Benedictine Sisters of Erie, 6101 East Lake Road, Erie, Pennsylvania 16511. Brugger Funeral Homes and Crematory, Pine Avenue Branch, 845 East 38th Street, is in charge of the arrangements.
Memorials may be made to the Benedictine Sisters of Erie, 6101 East Lake Road, Erie, PA 16511. Click here to offer an online memorial.