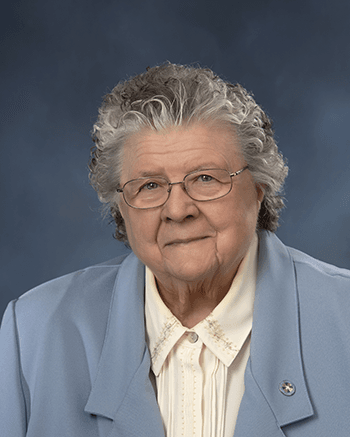 Sister Dorothy Szczypinski, OSB
March 9, 1931 - December 21, 2019
Our sister, Dorothy,
a gifted woman who was
teacher, mentor and friend to many,
passed from this life to the next,
quietly and peacefully.
Fully aware that her earthly life
was coming to an end,
Dorothy never wavered in her faith.
Her wit and humor remained strong
even as her body weakened.
Committed to the monastic way of life
Dorothy remained faithful unto death.
Her love of community was real;
her gratitude for kindness was sincere.
Her vulnerability became her strength
and she died with grace and fortitude.
God of all peace and fulfillment,
may we, too, be strong in faith,
finding our joy in you,
the source of all goodness and love,
now and evermore. Amen.
Sister Dorothy Szczypinski, OSB, 88, and in the 63rd year of religious life, died on December 21, 2019, at Mount Saint Benedict Monastery in Erie, Pennsylvania.
A native of Erie and member of St. Stanislaus Parish, Sister Dorothy was the daughter of Leokadya (Milewski) and Edward Szczypinski. She was a 1949 graduate of St. Benedict Academy and entered the Benedictine Sisters of Erie in 1955. In 1959, she made her perpetual monastic profession.
A born teacher, Sister Dorothy earned a BA in mathematics at Mercyhurst College, Erie and an MA in education with a concentration in mathematics at Edinboro University of Pennsylvania. She taught for 26 years in the Diocese of Erie: elementary teacher at Sacred Heart, Sharon; St. Michael, Fryburg; St. Stephen, Oil City; and secondary teacher at Cathedral Prep and St. Benedict Academy where she also served briefly as assistant principal. In addition, Sister Dorothy was a tenured assistant professor of mathematics at Gannon University for 12 years.
In 1994 Sister Dorothy became a math instructor at St. Benedict Education Center (SBEC). During her time there she worked with the boys from Sudan who had come to Erie and were participants in the programs offered at SBEC. She knew how to be teacher, mentor and friend, something she had been to the Vietnamese family the community welcomed and supported in 1975. Having become certified in the Laubach method of teaching English as a second language, she worked tirelessly, one-on-one with all the family members of the Tran family and kept the relationship alive even after they had been relocated and settled.
In the years following 2010, Sister Dorothy was active in the community's ministry of hospitality and served as receptionist on a regular basis. When health concerns prevented this she maintained her ministry of prayer and presence with a wonderful sense of humor, never-failing faith and deep love for monastic life.
Sister Dorothy was preceded in death by her parents, her brother Leonard, and her brother-in-law, Dennis Jacobson and niece, Denise Jacobson. She is survived by her Benedictine community, her sister Joanna Jacobson, her sister and brother-in-law Esther and Gerald Cross, her nephews Howard, Denis (Lori) and Marc Jacobson, and grandnieces and grandnephews as well.
Services will take place at Mount Saint Benedict Monastery: Visitation, Friday, January 3, 2:00–7:00 p.m. and Saturday, January 4, 9:30-10:30 a.m.; a Service of Memories on Friday at 7:00 p.m. and a Mass of Christian Burial on Saturday at 10:30 a.m. Interment will be on Monday, January 6, at 8:15 a.m. in Trinity Cemetery. Memorials may be made to the Benedictine Sisters of Erie, 6101 East Lake Road, Erie, Pennsylvania 16511. Brugger Funeral Homes and Crematory, Pine Avenue Branch, 845 East 38th Street, is in charge of the arrangements.
Memorials may be made to the Benedictine Sisters of Erie, 6101 East Lake Road, Erie, PA 16511. Click here to offer an online memorial.