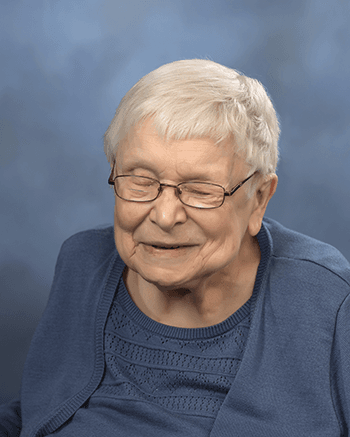 Sister Irene Warchol, OSB
March 6, 1924 - January 5, 2020
Our sister, Irene, enjoyed a long life.
She passed into eternal rest
and the comfort of God's embrace
as quietly and as simply as she lived.
Irene will be remembered as one
who was steadfast in spirit and humble of heart.
Through the work of her hands
many were fed with a taste of God's love.
Her unfailing faithfulness to prayer,
stable presence in community,
and dedicated commitment to ministry
satisfied her every need
and provided her with abiding peace.
God of all goodness,
we are grateful for this woman
whose sight is now restored to fullness.
May the memory of her constancy and fidelity
be our strength as we follow your way
and seek to glorify you in all manner of being,
now and evermore. Amen.
Sister Irene Warchol, OSB, 95, died on January 5, 2020 at Mount Saint Benedict Monastery in Erie, Pennsylvania.
A native of Erie, Sister Irene was the daughter of Theodosia (Witczak) and Joseph J. Warchol. She was a member of St. Patrick Parish when she entered the Benedictine Sisters in 1942, and was a 1943 graduate of St. Benedict Academy. In 1947 she made her perpetual monastic profession.
Sister Irene's life in community included 65 years of ministry in food service—a ministry that she believed taught her humility, patience and faithfulness. Initially, she ministered in church and convent kitchens throughout the Diocese of Erie: St. Scholastica, Sharon; St. Stephen, Oil City; St. Benedict and the Bishop's Residence in Erie; and St. Gregory, North East. Her ministry in Food Service then continued at Glinodo Center and at Mount Saint Benedict Monastery where she was Food Service Administrator for 12 years and bread baker par excellence for 32 years. She was always grateful that bread baking allowed her "to extend the monastery into the homes and lives of many, near and far, representing prayers, care and concern." In 2011 Sister Irene retired from her longtime ministry of bread baking and was engaged in the ministry of prayer and presence until the time of her death. Irene was known for her simplicity and said: "To live a good life does not have to be complicated. For me the gift to be simple means that I follow the Rule of Benedict and find my strength in community life and prayer."
Sister Irene was preceded in death by her parents, and her two brothers, Richard and Arthur. She is survived by her Benedictine community, Dennis Warchol (nephew), Kathy Few (niece), her close friends, Pat and Karl Poland, as well as cousins and other good friends.
Services will take place at Mount Saint Benedict Monastery: Visitation, Wednesday, 2:00–7:00 p.m. and Thursday, 2:00–5:00 p.m., a Service of Memories on Wednesday at 7:00 p.m. and a Mass of Christian Burial on Thursday at 5:30 p.m. Interment will be on Friday at 8:15 a.m. in Trinity Cemetery. Memorials may be made to the Benedictine Sisters of Erie, 6101 East Lake Road, Erie, Pennsylvania 16511. Brugger Funeral Homes and Crematory, Pine Avenue Branch, 845 East 38th Street, is in charge of the arrangements.
Memorials may be made to the Benedictine Sisters of Erie, 6101 East Lake Road, Erie, PA 16511. Click here to offer an online memorial.