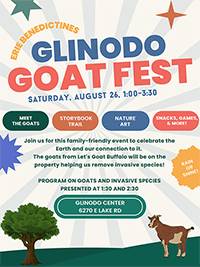 Goat Fest 2023 drew several hundred people--parents, children, adults, friends and neighbors--to Glinodo for a couple hours of outdoor fun and education on a unique way to care for our environment. For the second year, the Benedictine Sisters contracted with Let's Goat Buffalo to bring goats to the Glinodo property so that they can help clear the woods of invasive species.
Because the goats attracted a steady flow of curious folks last summer, it seemed worthwhile to plan an event that would bring people to Glinodo to learn about the work of Let's Goat Buffalo, about the need for earth-friendly methods of land preservation, and to experience a few hours outdoors in a beautiful space. Goat Fest did all that: Jen Zeitler, goatherd and owner of Let's Goat Buffalo, offered two presentations during the course of the afternoon on her work with the goats. A story book trail, with the book pages staked at intervals on the trail where the goats worked last year, drew families into the woods to read Old Enough to Save the Planet together. It is a book about real-life children taking action against climate change. After the goats cleared the ground of brush last year, several groups of volunteers helped reline and chip the trails so that even strollers could navigate the walk through the woods. 
An old-fashioned carnival popcorn machine popped all afternoon and popsicles kept everyone cool in the August sun. The snack porch was also a great place for loitering and chatting, an activity that took place in several other gathering areas as well. A picnic pavilion hosted rock painting and the front circle had an assortment of outdoor games. And of course, Lake Erie was only a short walk away down the boardwalk. We're grateful for everyone who came and enjoyed sharing this beautiful space with us for a few hours last Saturday. Thank you to members of the Benedictine Care for the Earth Committee and the Development and Communications staff who planned the event. And a very special thank you to the many volunteers--sisters and friends--who welcomed and attended to our guests. Access our goat blog here.