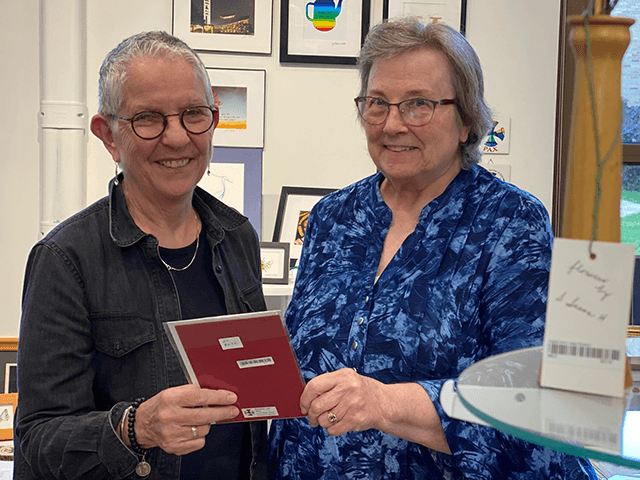 Looking for that unique gift? Visit Mount Saint Benedict Monastery's gift shop, Chapter 57, and choose from the many pieces of original art in various media. Chapter 57 will be open on Saturdays December 2 and 9 from 10:00 a.m. - 4:00 p.m., and on December 16 from 10:00 a.m. - 6:00 p.m. The store is also open Sundays from 10:00 - 11:30 a.m. Cash and checks only, please.
REPRINTED from Erie Reader
I like wordplay and books, so I keep my eye out for clever names, including titles of cozy mysteries (Buried in the Stacks, by Allison Brook) and book/gift shops (the Bayfront Bookshelf run by Friends of the Library at Blasco, for example). But I didn't know why the gift shop at Mount St. Benedict (6101 East Lake Road) is called Chapter 57 until Sister Valerie Luckey, OSB, director of Emmaus Ministries, explained its origin. (I am also a freelance writer for Emmaus.)
"It got its name in a contest that the late Sister Mary Lou Kownacki won for naming the store. It's taken from Chapter 57 of the Rule of Benedict about the 'artisans of the monastery,'" Sister Val said. "Paraphrase: The artisans are supposed to practice their craft with humility and not overcharge for anything, lest they get too prideful!"
But I will boast that I am delighted I spent some time at Chapter 57, which offers much more than books on religion, spirituality, and poetry, written by Erie Benedictines and by other noted authors of works on religion and spirituality. The shop specializes in glorious original art in all sorts of media, including photography. Artwork is sold on its own and is also incorporated into cards, tiles, mugs, woven baskets, bags and clothing items. Art by children from the Neighborhood Art House is also available, with proceeds benefiting that Benedictine ministry.
Jerry Williams was browsing at Chapter 57 with her friend, the Rev. Rebecca Cartus of the Federation of Christian Ministries. The two women, from Sewickley, had attended a retreat at the hermitages at the Mount. Williams described the art as "incredible" and said that the Benedictine rule of hospitality was practiced everywhere, including in Chapter 57, where Jo Clarke, an artist and Benedictine oblate, was waiting on customers.
Chapter 57 is the brainchild of Sister Margaret Ann "Peggy" Pilewski, an accomplished artist. It is open on Sundays from 10:30 a.m. to noon and also by calling 814-899-0614 to make an appointment with Sister Margaret Ann.